Last Night in Fayetteville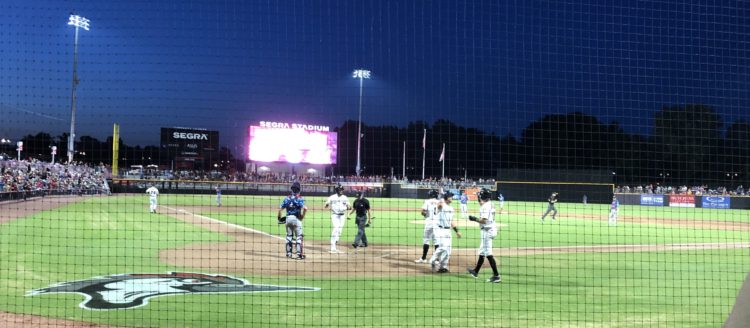 Sometimes, it's not hard to spot when the tide turns in a ballgame and just know how it's going to finish.
The first seven Potomac batters went down in order, five by way of the K, before Jakson Reetz reached base on the first of three Fayetteville errors with one out in the 3rd. Two batters later, Gage Canning dialed up a two-out triple that went off the glove of the rightfielder and plated Reetz to tie the game at 1-1.
The next inning, Woodpecker starter Austin Hansen loaded the bases with two walks and a Bryan Mejia sacrifice-turned-bunt-single. Osvaldo Abreu drove in two with single while Armond Upshaw sacrificed Mejia with a bunt to take a 4-1 lead.
In the 5th, Carson Teel returned the factor with two singles and a walk, but instead of three straight runners reaching, he interrupted it with a flyout that gave any P-Nats fans listening (and perhaps one watching in the stands) the vain hope of a double play.
See? I told you… because you know what happened next, right?
Teel left a mediocre fastball over the plate and Jake Adams, the Woodpeckers 6'2″, 250-lb first baseman, slammed it into the LF seats for a 5-4 lead. Teel would finish the 5th inning but leave the game, as he lost for the first time at High-A with five runs allowed on seven hits and two walks while fanning four.
Potomac couldn't take advantage of errors nos. two and three in the 6th and went down in order in the 7th and 8th innings. But they were still down just the one run—thanks to another two scoreless innings from Luis Reyes—until Upshaw forgot how many outs there were and threw the ball into the stands after the second out of the bottom of 8th.
By rule, that sent the runner on first to third base and, naturally, a wild pitch sent him home for the insurance run for Fayetteville.
Potomac racked up strikeout nos. 12 and 13 to lead off the 9th before Canning doubled to bring the tying run to the plate. But Cole Freeman could not come up with the fifth hit for the P-Nats and they fell, 6-4 for their 36th loss in 65 games.
Nick Raquet (5-5, 4.70) takes the ball on Saturday night against JP France (1-5, 4.56) as Potomac plays Game 3 the four-game series against Fayetteville on Saturday night.