Matthew Crownover's no-hitter highlighted Saturday night on the Nats farm.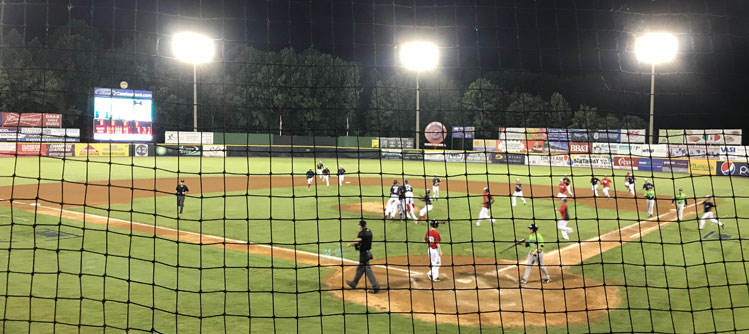 | | | | |
| --- | --- | --- | --- |
| Team | Yesterday | Today | Pitching Matchup |
| Syracuse | Lost, 3-1 | vs. Rochester, 1:05 p.m. | Valdez (5-7, 2.77) vs. Thorpe (0-2, 7.00) |
| Harrisburg | Lost, 6-2 | @ Akron, 2:05 p.m. | Vargas (1-1, 4.91) vs. Dowdy (3-8, 6.48) |
| Potomac | Won, 7-0 | vs. Lynchburg, 1:05 p.m. | Tetreault (0-1, 6.97) vs. Garza (4-6, 3.64) |
| Hagerstown | Lost, 2-1 | @ Lexington, 2:05 p.m. | Alastre (4-7, 5.19) vs. Neuweiler (2-2, 4.82) |
| Auburn | Won, 4-0 | @ West Virginia, 4:05 p.m. | N. Gomez (1-1, 1.64) vs. TBD |
| GCL Nationals | Lost, 7-5 | END OF SEASON | N/A |
Rochester 3 Syracuse 1
• Fedde (L, 3-3) 4⅔ IP, 3H, 2R, 2ER, 2BB, 6K
• Dragmire 4IP, 2H, 0R, 0BB, 2K
• Marmolejos 3-4, R, HR(8), RBI
• Severino 2-4, 2B
Erick Fedde pitched into the 5th on his latest stop on the rehab tour but was the losing pitcher in Syracuse's 3-1 loss to Rochester. Fedde was charged with two runs on three hits and two walks while striking out six. Jose Marmolejos accounted for the lone Chiefs run with his eighth HR and led the hit column with three, followed by Matt Reynolds and Pedro Severino (both with a single and a double). Roster moves: RHP Erick Fedde reassigned from Harrisburg for MLB rehab.
Akron 6 Harrisburg 2
• Crowe (L, 0-4) 7IP, 6H, 5R, 5ER, 2BB, 4K, 2HR
• Gamache 2-4, R, HR, RBI
• Read 2-4, 2K
Wil Crowe dropped his fourth AA decision in as many starts while the Senators saw their tragic number dwindle to two in a 6-2 loss to the RubberDucks. Crowe gave up five runs on six hits, including two homers, and two walks over seven innings. Dan Gamache and Daniel Johnson also went deep while Gamache and Raudy Read paced the Harrisburg offense with a 2-for-4 night.
Potomac 7 Lynchburg 0
• Crownover 9IP, 0H, 0R, 3BB, 3K, HBP
• Mejia 2-3, 2R, 2B, 2BB, SB
• Garcia 2-4, R, RBI
• Agustin 2-4, 2B, RBI, CS
Last Night in Woodbridge, Matthew Crownover threw a no-hitter for Potomac.
Lexington 2 Hagerstown 1
• Lee (L, 4-4) 6⅔ IP, 1H, 2R, 2ER, 3BB, 10K
• Pantoja 1⅓ IP, 2H, 0R, 0BB, 2K
• Freeman 2-4, R, 2B
• Franco 2-4, 2B
Andrew Lee also flirted with a no-no for six innings until Nick Pratto went yard after a leadoff walk in the 7th to give the Legends a 2-1 win over the Suns. Lee finished with a career-high of six and 2/3rds inning pitched with both runs on the one hit, three walks, and ten whiffs. Jorge Pantoja finished the game, cordero-ing around two singles in the 8th with two strikeouts. Cole Freeman and Anderson Franco both went 2-for-4 with a double to lead Hagerstown's six-hit, three-walk offense.
Auburn 4 State College 0
• Reyes 3IP, 1H, 0R, BB, 3K
• A. Hernandez (W, 1-0) 3⅔ IP, 1H, 0R, 2BB, 2K
• Blash 2-4, 2-2B
• Perkins 1-4, 2B, 3RBI
Auburn got only three runs in the first, but three pitchers combined on a four-hit, 4-0 shutout to stop a six-game losing streak. Luis Reyes took his rehab tour from the GCL with three innings of one-hit, one-walk ball while fanning three. Alfonso Hernandez picked up the win with three and 2/3rds innings and three baserunners (1H, 2BB)and set down two by way of the K. Ryan Tapani gave up the final two hits over two and a 1/3rd innings but walked none and fanned three. Jamori Blash doubled twice to lead the hit column while Nic Perkins's double in the 1st emptied the bases for the aforementioned three runs. Roster moves: RHP Luis Reyes reassigned from the GCL for MiLB Rehab.
GCL Cardinals 7 GCL Nationals 5
• Karp 2⅓ IP, 4H, R, ER, BB, 3K
• Theophile (L, 0-4) 2⅔ IP, 4H, 3R, 3ER, 0BB, 1K, 2-0 IR-S
• Aquino 1-3, R, 2BB
• Vega 1-3, R, 2BB
The G-Nats made their last circle down the drain of 2018 with a 7-5 loss to the G-Cards, securing a last-place finish in the GCL East at 23-33. Andrew Karp got the start and gave up four hits and a walk over two and a 1/3rd innings. Rodney Theophile was tagged with the loss, his fourth, as he gave up three runs on four hits over two and 2/3rds innings. The G-Nats walked eight times but only had five hits, one with RISP in ten chances as they left on 10 baserunners.
DSL Update
With a 2-1 victory yesterday morning, the D-Nats secured a .500 record at 36-36 to end a three-year streak of sub-.500 finishes.