Crownover Throws a No-Hitter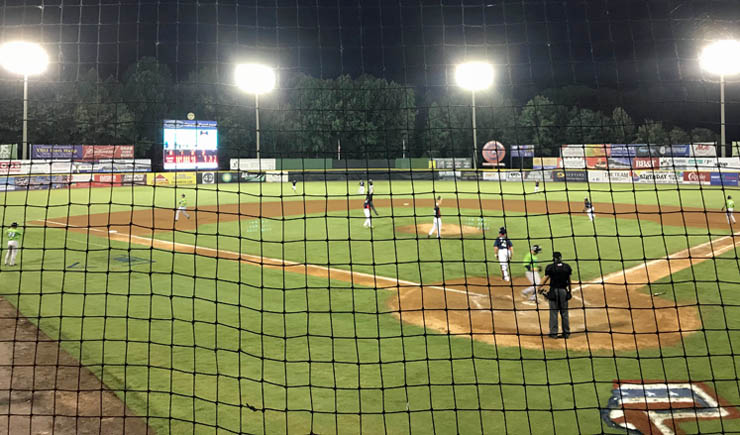 Maybe it's only a 10,000-to-1 shot… Hell is merely chilly… It's only a week full of Sundays.
But for one night, journeyman southpaw Matthew Crownover was ON — throwing nine shutout innings with not a single hit allowed in a 7-0 Potomac win over Lynchburg, something no other Potomac National had ever done before.
The pitch count, which can be such a double-edged sword (are they ever triple-edged? Isn't a single-edged blade merely a knife?), actually does tell the story because the home plate ump was not giving the 25-y.o. Georgian the close ones. Twice in the 9th the ump called balls with three-ball counts that maybe might have been strikes, making him work harder to get the no-hitter.
But even with the tightened strike zone, Crownover got through the 9th in 20 pitches. He threw 90 pitches through eight and finished with 110. He threw 68 of 'em for strikes and finished with three walks, three whiffs, and a Victor Robles hit batsman.
He wasn't perfect, but he was unhittable for nine innings as he won his fifth game this season for Potomac and notched his very first complete game. There really weren't any spectacular plays on defense because Crownover kept them off-balance. Ten of the outs came on the ground, ten came on fly ball three came by way of the K, and there were four popups.
The P-Nats took advantage of some very sloppy fielding in the 1st – two runs scored on two-out wild pitch combined with an error to take an early lead. They tacked on a third run in the 3rd with single, steal, and another single, before going to town on the Hillcats 'pen with a run in the 7th, and three in the bottom of the 8th on three doubles and a walk.
With the win, Potomac took a 2-0 series lead and reduced Lynchburg's lead to 4½ games with ten games left to play against Lynchburg (1), Frederick (4) and Wilmington (5).
Tomorrow afternoon, Jackson Tetreault (0-1, 6.97) faces off against Justin Garza (4-6, 3.64) in the series finale.