Day Tripping the DC-area Nats Affiliates
Part One of Four from Guest/Author, Walt Triebel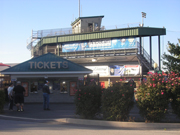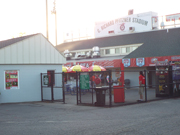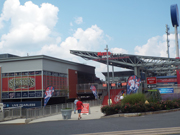 By Walter Triebel, Author of
Road-Tripping the South Atlantic League:
A Guide to the Teams, Ballparks, and Cities
The theme of this four-part series of posts is a limited Washington Nationals Minor League Baseball Road Trip. The table below lists the six American-based farm clubs in the Washington Nationals Minor League organization. Three of them, the Hagerstown Suns (South Atlantic League, class A), Potomac Nationals (Carolina League, advanced class A), and Harrisburg Senators (Eastern League, class AA), are located in adjoining states—Maryland, Virginia, and Pennsylvania.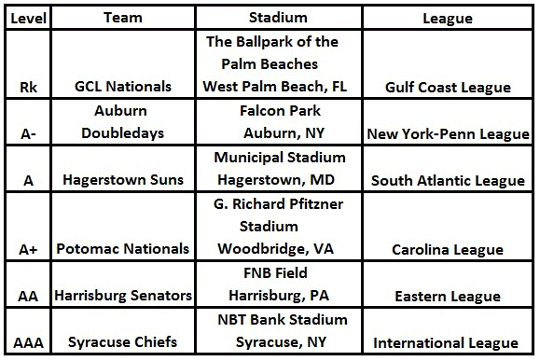 The proximity of the ballparks of those three clubs to each other and to the Washington, DC area offers an interesting opportunity for fans of the Nationals and those of these three Minor League affiliates. That is, they are all located within what I consider day-tripping distance and drive time of each other. My metric is that if a ballpark is within a one-way travel distance of approximately 200 miles and a 3 hour or less travel time that a baseball road-trip can be done to that destination without an overnight stay. Therefore, the primary goal is to outline travel plans to attend a game at the home ballparks of the Suns, P-Nats, and Senators as a day trip.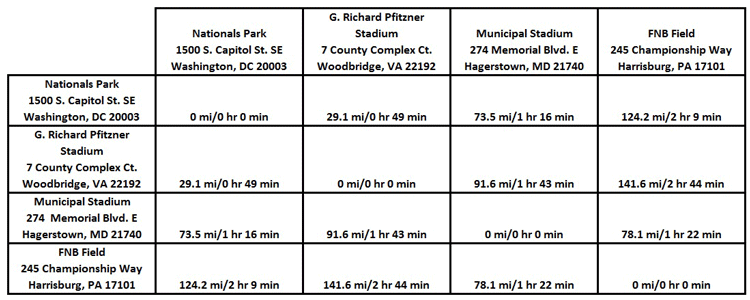 Note from the travel matrix that, relative to Nationals Park, they are all well within the time/distance parameters I set forth earlier. In fact, they are all within day-trip distance of each other – the longest travel distance is that between the stadium of the Potomac Nationals and the Harrisburg Senators; approximately 142 miles, which should take about 2 hours and 44 minutes.
There is a second goal for these road trips. I view Minor League baseball games as an opportunity to see the up-and-coming prospects of your favorite team and possibly some of the top prospects in all of Minor League baseball play. For example, when I made stops in Hagerstown during the 2013 season while making the baseball road trip that is outlined in my book on the South Atlantic League, I saw catcher Pedro Severino play in a number of games. He was then ranked as the Nationals' #15 MLB top prospect. In 2015, I again saw Severino, but this time at the AA level playing for the Harrisburg Senators.
Severino was a September 2015 call up and made his Major League debut in the Washington Nationals uniform at Nationals Park on September 20, 2015. On that day, he entered the game for the Nationals as a late-inning pinch hitter; doubled in his first Major League at-bat; and later that inning, scored his first run in the majors. Now, Pedro Severino is the starting catcher of the 2017 Syracuse Chiefs and is began the season ranked #8 among Washington's 2017 MLB Top 30 Prospects.
So another benefit of this Washington Nationals Minor League Baseball Road Trip is the opportunity to see a number of the Nationals 2017 MLB Top 30 Prospects who are playing for the Suns, P-Nats, and Senators. Seventeen of Washington's 2017 preseason top 30 prospects opened the season on the roster of one of those three clubs. Their #1 prospect, Victor Robles, is the starting center fielder of the Potomac Nationals while the #2 prospect, RHP Erick Fedde, began the season in the Harrisburg Senators starting rotation, and the #3 prospect, right fielder Juan Soto, was in the Opening Day lineup of the Hagerstown Suns. Overall, six of the Nationals top 10 prospects began the 2017 season playing for one of those three ball clubs. By mid-May the number of Nats' Top 30 prospects on the rosters of those three teams was up to nineteen.
In Parts 2, 3, and 4, I will provide background information about each of the three teams, their ballpark, and the travel destination that will be helpful in developing plans to attend a game one of these three baseball clubs. I will start with Municipal Stadium in Hagerstown, MD—the home of the Hagerstown Suns in Part 2 and then work my way up through the levels of Washington's Minor League syste: Potomac Nationals (Carolina League, A+) and Harrisburg Senators (Eastern League, AA).
In each section, I will briefly look at the team and its players, their stadium, some travel options, and a few attractions and places to eat at that destination. As part of that, I will identify and highlight the Washington Nationals 2017 MLB Preseason Top 30 Prospects that are currently on the team's roster.
Since each of these destinations either has or is near to some interesting attractions, I will advocate attending day games at each stadium. That would offer one some pregame and/or postgame free time to explore the cities, some of their local attractions, and possible have lunch or dinner at one of the eating establishments I will suggest.