Carter Kieboom, Edwin Lora both homer in the late innings to decide one-run games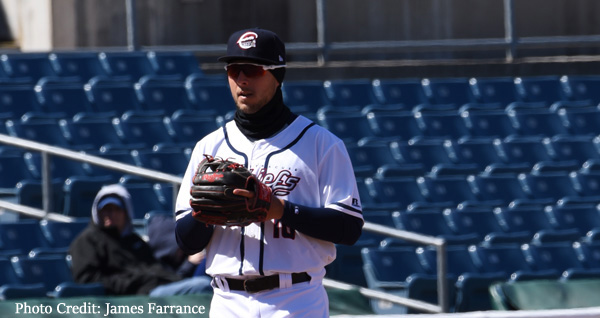 Team
Yesterday
Today
Probable Pitchers
Syracuse
Lost, 10-0
vs. Rochester,
1:05 p.m.
J. Turner, (4-7, 4.71 in '16) and
Hill (6-13, 4.60 in '16) vs.
Tepesch (8-4, 3.96 in '16) and
TBD
Harrisburg
Won, 6-5;
Lost, 5-1
vs. Altoona,
1:30 p.m.
Williams (1-7, 5.68 in '16) vs.
Brubaker (2-6, 5.32 @ A+ in '16)
Potomac
Won, 4-3
(12 inn.)
@ Wilmington,
1:35 p.m.
J. Rodriguez (7-11, 4.96 @ A-in '16) vs.
Blewett (7-10, 3.80 @ A- in '16)
Hagerstown
Won, 2-1;
Won, 16-2
vs. Asheville,
2:05 p.m.
Davis (3-6, 2.67 @ SS-A in '16) vs.
Pint (1-5, 5.35 @ Adv. Rk. in '16)
Rochester 10 Syracuse 0
• J. Ross (L, 0-1) 2⅔ IP, 6H, 4R, 3ER, 3BB, 3K, WP; 75-47 PIT-K
• Adams 2IP, 0H, 0R, BB, 3K
• Skole 1-3, 2B
• Bautista 1-4, 2B
The only thing colder than the weather was the Syracuse lineup, as two Rochester pitchers combined for a four-hitter and a 10-0 shutout in the AAA opener for both teams. Joe Ross did not exactly make the case to come back to DC sooner than the minimum as he was, um, winged for four runs (three earned) on six hits and three walks over just two and 2/3rds innings. The Red Wings put the game away with a six-run 7th, including a grand slam off Mike Broadway. Matt Skole (pictured above) and Rafael Bautista both doubled, while Pedro Severino and Grant Green singled to compose the Chiefs' hit column. Roster move: OF Michael Taylor optioned from Washington; the corresponding move has not been announced yet.
Harrisburg 6 Altoona 4 – GAME ONE
• Fedde (W, 1-0) 5IP, 4H, 1R, 0ER, 2BB, 5K,
• Brinley (SV, 1) ⅓ IP, 0H, 0R, 0BB, 1K, 1-0 IR-S
• Ward 1-2, 2R, 2B, HBP
• N. Soto 2-3, 2R, RBI
• A. Sanchez 1-3, R, HR, 3RBI
Erick Fedde pitched five strong innings while Adrian Sanchez highlighted a four-run 4th with a three-run bomb as the Senators straightened the Curve, 6-4 in the opener. Fedde let in an unearned run on four hits and two walks while striking out five to earn his first "W" of the season. Wander Suero nearly blew a 6-1 lead as he coughed up three runs in the 7th. Ryan Brinley came on to get the final out by way of the K to earn the save. Raudy Read drove in two with a double while Neftali Soto singled twice to plate one as the Harrisburg lineup got six runs on six hits and two walks.
Altoona 5 Harrisburg 1 – GAME TWO
• Blackmar (L, 0-1) 4IP, 6H, 3R, 3ER, BB, 3K, HR
• Valdez 1IP, 0H, 0R, BB, K
• S. Kieboom 1-3, 2B, 2K
• Hernandez 1-3, RBI
Altoona got three runs in the 1st and it was more than enough to split the doubleheader for a 5-1 win over Harrisburg. Mark Blackmar went the first four innings, giving up the aforementioned three runs on six hits and a walk while striking out three to take the loss. Spencer Kieboom had the sole extra-base hit while Yadiel Hernandez drove in the Senators' only run with a 2nd-inning groundout. Harrisburg had just five hits and two walks total with nobody reaching twice.
Potomac 4 Wilmington 3 (12 inn.)
• Silvestre 4IP, 4H, 3R, 3ER, 3BB, 5K, HR
• Borne 4⅔ IP, 4H, 0R, BB, 4K
• Bacus 1⅓ IP, 1H, 0R, 0BB, 1K, 2-0 IR-S
• Lora 2-5, R, HR, RBI, SB
• Mejia 2-5, 2R, HR, RBI, CS
Edwin Lora's ninth career HR broke a 3-3 deadlock as the P-Nats edged the Blur Rocks, 4-3 in 12 innings. Hector Silvestre got the start but was dinged for all three Wilmington runs on four hits and three walks over four innings. He struck out five but was lifted after 83 pitches. Grant Borne led the eight innings of shutout ball tossed by the Potomac 'pen, with four and 2/3rds turned in. Veterans Kyle Schepel and Dakota Bacus both stranded two runners with two outs in the 9th and 11th innings respectively with Bacus picking up the win. Bryan Mejia also homered (career no. 14) as both he and Lora went 2-for-5 to lead the P-Nats attack.
Hagerstown 2 Asheville 1 – GAME ONE
• Acevedo 5IP, 3H, 0R, 0BB, 3K
• Held (W, 1-0) 2IP, 2H, 1R, 0ER, BB, K
• Perkins 1-3, R
• C. Kieboom 2-3, R, HR, 2RBI
Carter Kieboom's two-run homer in the bottom of the 6th broke up the Star Trek Convention on the Municipal Stadium scoreboard as Hagerstown took the opening game of the doubleheader, 2-1. Asheville nearly got both runs back as back-to-back singles and Juan Soto's second error in as many games put the tying runs in scoring position with nobody out. Sam Held settled down to get two grounders, one plating the lone Tourist run, and struck out the final batter with the tying run on third. Suns starter Carlos Acevedo pitched five scoreless innings with just three hits allowed in his first no-decision of '17.
Hagerstown 16 Asheville 1 – GAME TWO
• Mills (W, 1-0) 5IP, 2H, R, ER, 0BB, 6K, 3WP
• Bourque 2IP, 2H, 1R, 0ER, 1BB, 0K
• Johnson 2-3, 2R, 2HR, BB, 5RBI
• Perkins 3-5, 2R
• J. Soto 3-3, 3R, BB, K
Like a mid-'80s Mike Tyson, the Suns hit 'em hard, early, and often in the nightcap for 16-2 demolition, and a doubleheader sweep. Daniel Johnson and Sheldon Neuse both drove in five, with Johnson smacking two homers and Neuse connecting for a grand slam, as the Hagerstown lineup strafed the Asheveille pitchers for 14 hits and four walks. Blake Perkins and Juan Soto both had three hits while Angelo La Bruna was the beer man with an 0-for-4 night.