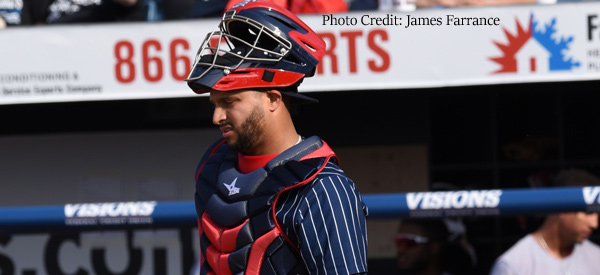 Team
Yesterday
Today
Probable Pitchers
Syracuse
Lost, 6-2;
Lost, 10-4
@ Pawtucket,
6:15 p.m.
Voth (7-9, 3.15 in '16) vs.
Kendrick (6-5, 4.73 in '16)
Harrisburg
Won, 6-2
vs. Hartford,
6:30 p.m.
G. Ross (5-1, 0.83 in '16) vs.
Niebla (0-1, 5.30 in '16)
Potomac
Won, 8-7
@ Frederick,
7:00 p.m.
J. Baez (9-7, 3.94 @ A- in '16) vs.
Alvarado (10-9, 3.41 @ A- in '16)
Hagerstown
Lost, 11-3
vs. Lakewood,
6:05 p.m.
C. Pena (2-2, 2.95 @ GCL in '16) vs.
Fanti (7-0, 1.57 @ GCL in '16)
Rochester 6 Syracuse 2
• J. Turner 3⅔ IP, 3H, R, ER, 3BB, 4K, WP
• Grace (L, 0-1) 2IP, 2H, 2R, 2ER, 0BB, 4K, 3-0 IR-S
• Martin (BS, 1) 1⅓ IP, 5H, 3R ,3ER, 3BB, 1K, HR, 2-2 IR-S
• Goodwin 3-4, RBI, SB, CS
• Snyder 2-3
Rafael Martin was in midseason form as he let in the last five runs over an inning and a third to turn a 2-1 Chiefs lead into a 6-2 loss to the Red Wings. Jacob Turner got the start and was lifted after loading the bases with two out in the 4th. Matt Grace got the last out and stranded all three runners but was responsible for the go-ahead run that came in on a two-run homer served up by Martin. Brian Goodwin led the Syracuse hit column with 3-for-4 game, followed by Brandon Snyder at 2-for-3.
Rochester 10 Syracuse 4
• Hill 4⅔ IP, 8H, 5R, 5ER, 0BB, 4K, 3HR, HBP
• Antolin 1⅓ IP, 1H, 0R, BB, 2K
• Skole 2-3, R, 2B, HR, RBI
• Falu 1-2, R, HR, RBI
Syracuse dropped a third straight game to Rochester, 10-4. Taylor Hill was lit up for five runs on eight hits (three HR) over four and 2/3rds innings. He hit one batter, walked none and struck out four. Irving Falu, Clint Robinson, Brandon Snyder, and Matt Skole each hit solo shots to make the most of just six hits and no walks drawn by the Chiefs offense. Roster move: RHP Matt Albers selected and recalled to Washington.
Harrisburg 6 Altoona 2
• Williams (W, 1-0) 6IP, 5H, 2R, 2ER, 0BB, 9K, HBP
• Lara (H, 1) 2IP, 2H, 0R, 0BB, 2K
• Read 2-4, R, 2B, HR, 3RBI
• N. Soto 2-4, R
• Stevenson 2-4, 3RBI, 2CS
Raudy Read's three-run HR in the last of the 6th erased a 2-0 deficit as Harrisburg tripled up Altoona, 6-2 to split the four-game series. Austen Williams got the win with a quality start of two runs on five hits and no walks in six innings pitched. He struck out nine. Andrew Stevenson also drove in three with a pair of singles, though he was caught stealing twice. Neftali Soto was third Senator with multiple hits in Harrisburg's ten-hit parade.
Potomac 8 Wilmington 7
• Rodriguez 4IP, 4H, 5R, 4ER, BB, 5K, 3WP; 82-56 PIT-K
• Crownover (W, 1-0) 3IP, 2H, R, ER, 2BB, 3K
• Gutierrez 4-5, 2B, RBI
• Robles 3-4, 4R, 2B, HR, BB, 2RBI, SB
• Sagdal 2-5, R, HR, RBI
The P-Nats outslugged and outlasted the Blue Rocks to take the game, 8-7, and the series, 2-1. Jefry Rodriguez labored through four innings, giving up five runs (four earned) on four hits and a walk. He struck out five and was charged with three wild pitches. Matt Crownover got the win in relief, with one run allowed on two hits and two walks over three innings. Victor Robles reached base four times, scored four times, and was a triple shy of the cycle while Kelvin Gutierrez stroked three singles and a double to lead Potomac's 15-hit offense.
Asheville 11 Hagerstown 3
• Davis (L, 0-1) 4IP, 6H, 5R, 5ER, BB, K, 3HR, BK, HBP
• Noll 2-4, R, 2B, RBI
• Banks 2-4
Asheville returned the favor from the second game of last night's doubleheader and thrashed Hagerstown 11-3 to split the four-game series. Weston Davis worked a scoreless 1st before giving up runs in each of the next three innings. He gave up five runs on three HR's and six hits total over four innings. He walked one, struck out one, and hit a batter. Blake Perkins and Nick Banks both singled twice while Jake Noll singled, doubled, and drove in a run. Roster move: LHP Jordan Mills assigned from Washington; no corresponding move yet.