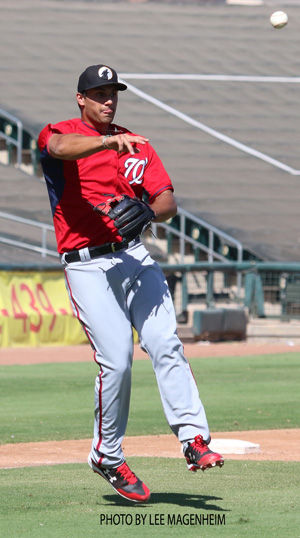 The Desert Dogs outhit the Saguaros 9-6, but couldn't push any of their baserunners across in a 2-0 loss.
Drew Ward (pictured) and Andrew Stevenson were the only two Nationals to appear in the game.
Ward, who batted fifth and played 3B, was 1-for-4 with a strikeout and grounded into a double play. In the field, he had one assist.
Stevenson led off, played CF, and singled once in five trips to the plate. He fielded six balls and made one putout.
Glendale, which saw its tragic number reduced to nine with loss no. 12 in 18 games, returns home to host Scottsdale.
# # #
Rosters for the Fall Stars game were announced yesterday for this Saturday's showcase event. Drew Ward and Ryan Brinley were both named to the West Division team. Tim Tebow, despite his .147/.194/.176 line in 10 games, somehow did not make the East Division team. The game will be televised on the MLB Network at 8 p.m. (Oh, THAT'S why…)