AFL Update: Oct. 28, 2016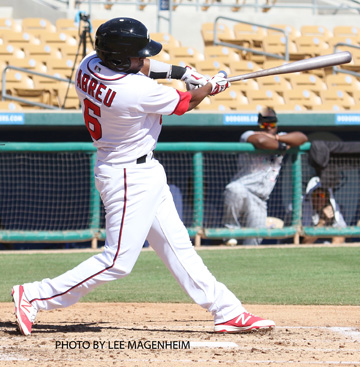 Glendale rallied for three in the bottom of the 7th to take a 7-5 lead but the 'pen gave away five unanswered runs for a 10-7 loss to Mesa.
Two position players and two relievers saw game action:
Drew Ward batted second and played 3B, going 1-for-5 with a run and an RBI.
Osvaldo Abreu (pictured) singled twice and struck out twice in four AB's, scoring once. He batted seventh and played SS.
Nick Lee was knocked around for two runs on four hits and a walk over an inning and a 1/3rd and was charged with a blown save.
Ryan Brinley's streak of perfection ended at 17 batters as he was lit up for three runs (two earned) on four hits in the 9th after getting the final two batters of the 8th. He was charged with the loss.
The Desert Dogs stay at home this afternoon to host the Rafters. Austin Voth is slated to start for Glendale.
# # #
UPDATE: District on Deck has a season review of the Hagerstown Suns, featuring an interview with manager Patrick Anderson. Check it out.