AFL Update: Oct. 18, 2016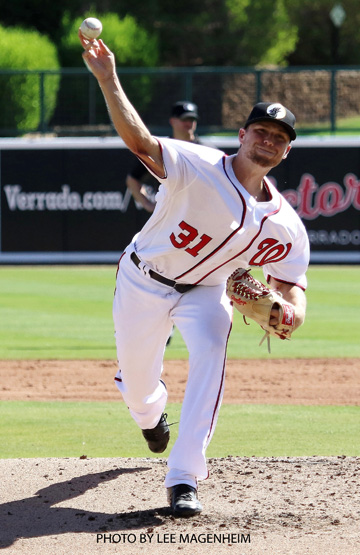 The Desert Dogs got good pitching from the starter, the first man out of the 'pen, and the last man out of the 'pen.
In between? Not so much as Peoria overcame a 3-1 deficit with four runs in the final three innings to beat Glendale, 5-4.
Austin Voth (pictured) made his second start and was much more effective, giving up one run (albeit on a home run) on two hits and no walks over four innings. He struck out seven and threw 57 pitches, 39 for strikes.
Jake Johansen followed and tossed two scoreless innings with two hits allowed and no walks or whiffs. He threw 31 pitches, 19 for strikes.
Ryan Brinley was the last reliever to appear, coming on with two outs in the 9th with the bases loaded. He left 'em that way as he retired the only batter he faced with a grounder to Drew Ward, who tossed across the diamond for the third out and his fourth assist.
At the plate, Ward reached base twice with a leadoff walk in the 4th and an RBI single in the 6th. He also grounded out and struck out looking and committed an error in the top of the 9th. He was the only Nationals position player to appear in the game.
The loss drops the Desert Dogs to 2-4 on the season. The two teams will rematch and switch venues for a night game in Peoria.