AFL Update: Oct. 13, 2016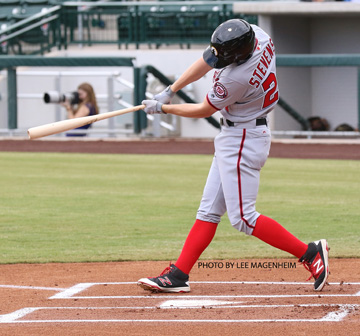 Powered by Andrew Stevenson's five RBI, the Glendale Desert Dogs eclipsed the Mesa Solar Sox, 7-1 to take their first AFL contest of 2016.
The 22-y.o. Louisiana native homered in the 1st (pictured), hit a sac fly in the 3rd, and drove in two with a single in the 9th as he went 2-for-4 in his AFL debut. He batted second and played in LF, where he had no defensive chances.
Nick Lee was the only other National to appear. The longtime lefty (both for the Nationals and, presumably, since birth) allowed a leadoff double and walked two over two scoreless innings.
As noted in the comments, Osvaldo Abreu did play on Tuesday, going 0-for-3 with a strikeout. Our copyeditor has been informed.
The Desert Dogs host the Saguaros tonight in Game Three of 32.