Giolito Fans Three in 5-4 Walkoff Loss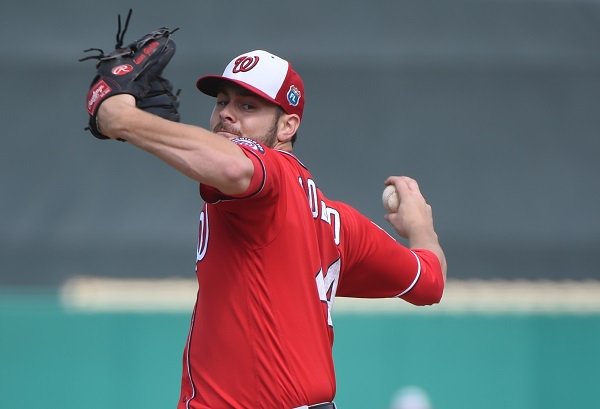 Both hands on the keyboard.
The Nats top prospect for the past four seasons lived up to the billing in his first spring training outing as he struck out three in the first of his two innings of work yesterday against the Marlins. He worked around an error in the 5th and gave up a hit in the 6th while rolling three groundouts.
As for the game, the Nats lost with one out in the 9th when ex-Nat Justin Maxwell took non-roster invite Paolo Espino deep for a three-run homer to hand Washington its first loss of the spring.
Gio Gonzalez also made his spring training debut and threw two scoreless innings, giving up a pair of two-out safeties in the 2nd before retiring the fifth batter of the inning on a flyball.
The Nats used the lonbgball to take the 4-2 lead that was later lost. Michael Taylor left the band the yard as went he went solo with one out in the 2nd. Wilmer Difo (1-for-3, R, 3RBI) continued to channel Ian Desmond as he committed his third error in three games but also hit a three-run homer in the top of the 5th.
Here's a rundown of how the notable minor-leaguers fared yesterday:
Trea Turner started at 2B and went 0-for-1 with a walk
Ditto for Christopher Bostick as Turner's sub
Jason Martinson followed Tyler Moore at 1B and was 1-for-2
Brian Goodwin was the DH to start and went 0-for-1 with a walk
Raudy Read pinch-hit for Goodwin and went 0-for-2 with a whiff
Abel De Los Santos struck out two while working around a Bostick error in the 8th
Stephen Strasburg will take the hill today in Viera, opposed by ex-Nat Jordan Zimmermann. The game can be heard on MLB Audio with the Detroit radio feed.