Nats Implode In 6th, Lose 7-2 To Braves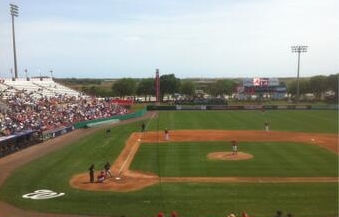 With three weeks to go before Opening Day, the good news is that Stephen Strasburg breezed through the first five innings on slightly more than 50 pitches. The bad news: A six-run sixth inning by the Braves broke the 0-0 tie as the Nationals ultimately fell, 7-2.
Strasburg was charged with four runs on four hits and two walks over five and a 1/3rd innings, though two of the runs were let in by Zach Duke as the first man out of the 'pen.
The 24-year-old ace struck out five on an unofficial pitch count of 76 pitches, 53 for strikes per Patrick Reddington of Federal Baseball.
Following Duke, who took the brunt of the Atlanta rally with three hits and two runs of his own given up in just 2/3rds of an inning, Rafael Soriano cruised through a scoreless 7th, setting them down in order with a popup, strikeout, and a flyout.
The fight for the final bullpen spot continues to be less like the UFC and more like the Little Rascals as neither Henry Rodriguez nor Fernando Abad were particularly effective in the 8th, with the former putting on two in 2/3rds of an inning (one single, one HBP) and the latter giving up a leadoff hit for the seventh and final Braves run while getting the last out in the 8th.
Tyler Clippard matched Soriano with a three up and three down 9th, also striking out one.
The Nats broke up the shutout bid with a rally from the reserves in the bottom of the 8th. Carlos Maldonado drew a leadoff walk, took second on Steve Lombardozzi's groundout, waddled to third on a single by Corey Brown and finally came in on an RBI groundout to third by Carlos Rivero.
Tyler Moore's solo shot into the wind in the last of the 9th completed Washington's scoring.
A rundown of how the notable minor-leaguers fared:
• CF Brown 1-1
• PR-RF Rivero 0-1, RBI
• LF Owings 0-1
• PH-DH Marrero 0-1
• SS Walters 0-1
Tomorrow is the second of three scheduled off days for the Nats' 2013 Spring Training. It's a pair of split-squad games against the Mets in Viera and the Astros in Kissimmee on Wednesday. MLB.com beat writer Bill "The Rocket" Ladson is reporting that the next round of cuts will come after those games.