Nats Drop 4-2 Decision For 2nd Straight Loss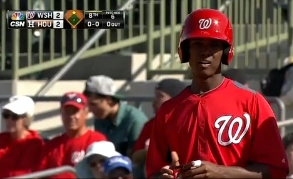 After Michael Taylor's two-run single in the top of the eighth tied it at 2-2, Ryan Mattheus coughed up the deciding runs in the bottom of the 8th as the Nationals dropped their second straight decision, 4-2 to the Astros.
Gio Gonzalez made his final pre-WBC start, tossing three shutout innings with three hits and one walk allowed while setting down three on strikes.
Ross Ohlendorf followed but was rocked for the second straight appearance, giving up two runs on three hits over three innings. Drew Storen pitched an uneven 7th inning with two hits allowed but two strikeouts.
Ryan Mattheus took the loss by surrendering two runs on three hits. He gave up a pair of singles to lead off the 8th, then struck out Marc Krauss to set up a double play. Former National Rick Ankiel stole second to take it away. Jason Castro then drove in the go-ahead and insurance runs with a single to right.
Corey Brown was the lone minors guy to get the start, going 1-for-2 as the RF. He was replaced by Carlos Rivero, who drew a walk in his lone plate appearance the 8th to load the bases for Taylor (1-for-1), playing CF after pinch-running for Denard Span in the 6th. Matt Skole (1-for-2, R), playing in place of Tyler Moore at 1B, had opened the frame with a ground-rule double and took third on an error that allowed substitute catcher Sandy Leon (0-for-1) to reach.
Here's how the other notable minor-leaguers fared yesterday:
LF Micah Owings, 0-1, K
PH-DH Chris Marrero, 0-1, R
SS Zach Walters 1-1
PR-3B Anthony Rendon 0-2, K
With the loss, the Nationals drop to .500 at 5-5 with two ties. For folks looking to tune in to today's 1:05 p.m. game against the Cardinals in Viera, you'll be spared the saucy Mike Shannon and Mike Rooney on KMOX in favor of the sassy Bob Carpenter and F.P. Santangelo on MASN.