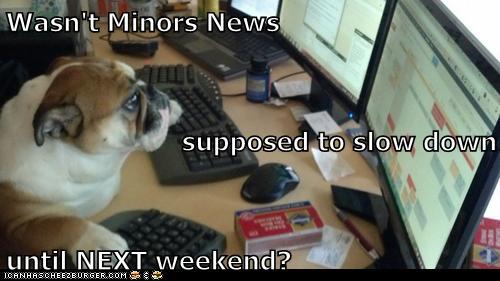 After a busy weekend of transaction news, here's a few tidbits to tide folks over in case things really do slow down on the minors front.
• Adam Kilgore gives us updates on Sammy Solis, Nathan Karns, and a whole lot of info on Steve Souza. To be fair, Souza has long been a favorite of Nats management, which explains in part why he's stuck around despite suspensions for PEDs and off-field incidents. The other part, of course, is that he's also a five-tool talent, which is why yours truly has put him on the site's watchlist all three times.
• Chris Young has opted out of his contract but still might wind up in Syracuse. According to Ken Rosenthal, some eight teams were watching last night's start. For most Nats fans, this means little, but for the minor-leaguers, this might mean the difference between starting and relieving, Harrisburg or Syracuse, or going north next week at all.
• Finally, part three of the Sean Nicol interview has been published by our friend Shawn in Hagerstown. Part one can be found here, and part two can be found here.