Season Review: 2012 DSL Nationals
For better or worse, this is where the Nationals have decided to cultivate its teenage talent. The trend of getting younger has leveled off as well. The average bat was 18.1 years old, just as it was in 2011; the average arm was 19.0 years old, a shade older than last year's crew, which was 18.9 years old.
The team, however, finished third in its division with a mark of 38-32 (.543) — its best finish since 2008, when the DSL Nationals1 won the league.
As referenced in the comments, there's only so much that we can glean from the DSL. It is, after all, just box scores and stats. We obsess over player ages while simultaneously doubting them in light of countless scandals that are a byproduct of that obsession (not to mention abject poverty, but let's steer clear of socioeconomic discussion, like the NCAA does despite pretending otherwise).
One of the imperfect measures we do have is seeing how many of the DSL Nationals advance to the GCL. Four position players and seven pitchers advanced to the GCL from 2011 to 2012, similar figures to the 2010 to 2011, which were four and six respectively. As one might expect, the progression beyond that hasn't been as good: just two of the non-Smiley 2010 DSL Nationals that have made it to Auburn or Hagerstown (Narciso Mesa, Wirkin Estevez). There's hope for the last Bowden class (the 2009 DSL Nationals), which includes Estarlin Martinez, Wander Ramos, and Pedro Encarnacion.
Following the format from the past two years, let's take a look at how the team did vs. the league averages…
HITTING (GPA = Gross Production Average)



PITCHING



Offensively, the DSL Nationals were the fifth-best in the DSL, with much it coming from speed — directly, in the way of stolen bases (3rd best); indirectly, in the way of doubles (2nd best). They were slightly above average in terms of walks, and slightly below in terms of strikeouts. The pitching, as you've probably guessed, was bad, 28th out of the 35-team DSL and the defense was league-average at .952, with the catchers throwing out 42% of the would-be thieves (vs. 38% for the league).
Using 100PA as the cutoff, here's how the 2012 DSL Nationals broke down, with the primary player at each position listed under "G" and total games played "GP" (e.g. Raudy Read played 44 of 68 games played at catcher). Fielding percentage is for the primary position played for the starters while the bench and utility guys players have their numbers combined. Folks interested in seeing the full team and its stats can click here.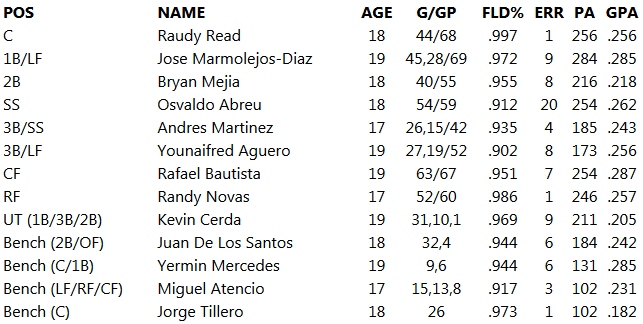 Space prohibits me from including this in the graphic, but I'll point out that eight of the these 13 guys had OBPs that were at or above the league average. Leading the pack was speedster Rafael Bautista, who got on base at a .419 clip and led the league in stolen bases with 47. Raudy Read showed an unusual amount of power, hitting nine home runs and 16 doubles in his sophomore season. The 18-y.o. Read was one of three regulars to surpass .400 in slugging percentage, with 19-y.o. Jose "Orange" Marmolejos-Diaz leading the way at .490, Read second with a .441 mark, and 17-y.o. Randy Novas a show at .421.
This brings me to the most notable name not listed here: Thomas Alvarez, an 17-year-old American who grew up in New York, presumably born to Dominican parents, and returned to the D.R. to go pro. He was signed for $40K in June and played sparingly throughout the season, putting up a line of .222/.391/.444 in 18 games. Not much else can be found, so it remains to be seen whether this is someone we'll hear from again or whether he'll be the 2012 version of Dionicio Rosario.
On to the pitchers, listing the Top 12 in terms of innings pitched…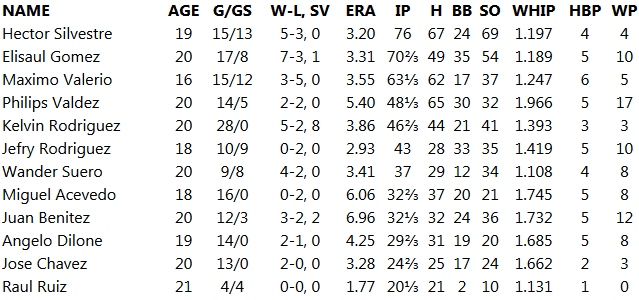 As aforementioned, the pitching was substandard this year, perhaps even worse when you stop to consider that so many 20-year-olds carried the load. Maximo Valerio, who turned 17 in late July, was the bright spot with slightly better than league-average numbers in his first season. It's hard to envision more than a couple of these pitchers making it to the GCL next season, though as stated last year, most draft gurus will caution against getting too excited about summer-league players. And I'll repeat: This is where I've made a lot of my mistakes in picking players to watch, which brings us to the…
OBLIGATORY TOP FIVE LISTS
For the second straight year, my #1 picks (Diomedes Eusebio, Gilberto Mendez) moved up to the GCL. Yay! And for the second straight year, I had one of my Top 5's get released (Rosario). Boo!
I'm very confident this will happen again, particularly among the pitchers; hence, the honorable mentions to a pair of 17-year-olds with good peripherals in tiny sample sizes. Valerio and (ugh) J-Rod get the nods because of usage and age, the rest because they're either lefthanded (Gomez), and/or throw strikes (Silvestre), or have the earmarks of an injury gamble (Ruiz).
Top 5 Batters
1. Raudy Read
2. Randy Novas
3. Osvaldo Abreu
4. Rafael Bautista
5. Jose Marmolejos-Diaz
Top 5 Pitchers
1. Maximo Valerio
2. Hector Silvestre
3. Jefry Rodriguez
4. Elisaul Gomez
5. Raul Ruiz
HONORABLE MENTIONS: Jorge Berrio, Jonathan Aquino