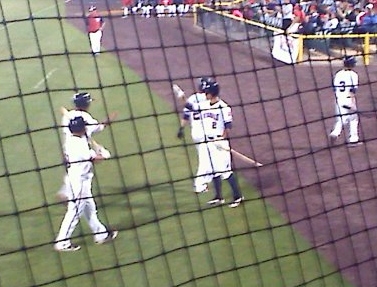 With three HRs total and a two-hit complete game in the opener, the Potomac Nationals swept a doubleheader from the first-place Lynchburg Hillcats, 6-1 and 4-2.
The wins (Potomac's third straight) and losses (Lynchburg's fifth straight), have tightened the race in the Carolina League's Northern Division. Last weekend, the two teams met in Lynchburg with the Hillcats taking two of three to build an eight-game lead. Since then, Lynchburg has gone 1-5 and Potomac has gone 5-2, shaving the lead to 4½ games. With a win today, Potomac's chances go from slim to some, but better than a week ago when it was nil and none.
In Game One, Adam Olbrychowski turned in precisely what the team needed: A complete game — especially with this being the first of four doubleheaders in eight days. The 25-year-old veteran gave up just two hits and retired the last 10 batters he faced for his first career complete game.
Zach Walters, who went 4-for-4 on Thursday, continues to swing a hot bat. His first homerun (righthanded) capped off a four-run third that would provide all the support Olbrychowski would need.
In Game Two, Bobby Hansen Jr. made his first start in five weeks and battled through some wildness (three walks) and some long hits (three doubles) to keep the team in the game with a final line of two runs allowed over four innings. He gave up single runs in the second and third innings, but also stranded four baserunners, firing a 90-mph heater for his sole strikeout to end the second and getting a groundout and popup to end the third.
Like Thursday night, the P-Nats put up crooked numbers in consecutive innings to overcome an early (2-0) deficit. Walters homered again (lefthanded) to get the rally going while Michael Taylor singled, took second as Kevin Keyes got hit by a pitch, and scored on Francisco Soriano's RBI single to tie at 2-2 after four innings.
Justin Bloxom, who was named the Offensive Player of the Month by the Booster Club between games, lived up to the billing with another two-run homer, a pulled shot 15′ fair, 250′ high and 350′ over the right field fence.
Sidewinders Joe Testa and Neil Holland got the win (Testa's 1st) and save (Holland's 2nd) as they combined to pitch three shutout innings to complete the doubleheader sweep.
Robbie Ray (1-2, 6.66) has the start this afternoon as Potomac guns for its first three-game series sweep and a chance to slice the Lynchburg lead down to 3½ games, opposed by soap-opera-named Blaine Sims (0-0, 5.26).