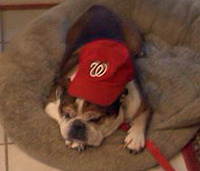 It's a shame that today's game, albeit an exhibition against a NCAA D-I powderpuff, isn't broadcast on radio or TV because it's right in our sweet spot, a lineup of minor-leaguers and non-roster invitees:
Lombardozzi, 2B Paul, LF Moore, 1B Harper, RF Carroll, DH
Rendon, 3B Brown, CF Blanco, SS Leon, C
LHP Matt Purke is slated to start, followed by Austin Bibens-Dirkx, Rafael Martin, Waldis Joaquin, Jeff Fulchino and Atahualpa Severino (not necessarily in that order).
Bill "The Rocket" Ladson is reporting that Justin Bloxom, Destin Hood, Jeff Kobernus, Michael Taylor, and Zach Walters will come off the bench.
For the real geeks diehards, check to see if MLB will be warming up its interns with a GameDay broadcast at noon. As mentioned in the comments, @NatsJack will be tweeting from the game, which should include some pics.