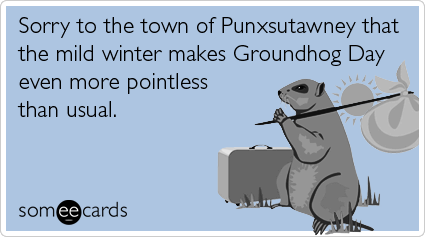 We're still here, celebrating the occasion of a rodent seeing its shadow (no, we're not), waiting for the actual spring to come.
As you've come to understand with these posts, I'm passing along a couple of links while we wait for something more minors-oriented to come along. Well, something less specious than a half dozen or so folks parroting the "Number One" ranking in the Baseball America handbook for the Nationals farm system yesterday, with the caveat of "published prior to the Gio Gonzalez" buried three or four grafs in, if at all.
Meanwhile, the stadium saga for the Potomac Nationals continues. As it so happens, Route 66 is roughly a tenth of a mile from where I'm sitting right now. I can assure you that during the HOV hours, it's backed up, too. Any inference that it'll be any better than it is right now for anybody is simply not true. That's just the nature of the beast that is Northern Virginia's traffic and underfunded infrastructure.
Out in Northwestern Virginia and Western Maryland, the cities of Winchester and Hagerstown are vying for the affections of the Hagerstown Suns, with the pending transfer of land to the Winchester Economic Development Authority and a possible renegotiation of the stadium lease.
I will repeat that the only dog I have in either fight is that the teams don't relocate out of driving distance and/or I'm forced to attend fewer games. I don't blindly support any government giving away monies to team owners, but I also don't begrudge the owners their right to angle for a better deal; it's still a business for them, after all. My motivation here is simply to pass along the information and keep the website from going stale.
P.S. Yes, I'm aware of the Chad Durbin signing, but it's clearly a look-see. I'm not that desperate for "news" 😉