After wading through the worst affiliate last week, it's time to look at and reflect on what was — on won-loss basis anyways — the best. It's also a yardstick of sorts for the 2011 draft*, which was decidedly tilted towards college players in general (36 of 51 drafted, 26 of 30 signed) and seniors in particular (13 of those 26). Consequently, the Auburn team was the second-oldest in the league and that does in part explain some of their success.
*I'm no draft expert and am quite honest in my distaste for discussing it, but it's not lost on me that this emphasis on upperclassmen isn't ideal — especially when the new normal for player advancement is one level per year. It's great that Washington is putting more money into the D.R. and getting more players to come stateside, but that can't be the only source of teenage talent. I can understand shying away from drafting high school pitchers (before you chime in with Peacock, Cole, or Ray, remember McGeary, Smoker, and Willems) but it just seems to me that now might be the time to start taking chances again on some high school hitters.
As we've done the two reviews prior, let's take a look at how Auburn compared to the rest of the league…
HITTING


PITCHING


Too old or not, the Auburn Doubledays were the class of the New York-Penn League on offense, leading the league in runs scored, hits, doubles, RBI, batting average, on-base percentage and slugging. They could also run, finishing third in the league in total steals with 95 but were caught just 16 times for an 85.5% success rate.
The pitching was pretty close to league average in nearly every stat, with the rather notable exception of HRs allowed (fewest in the league), strikeouts (11th of 14 teams), and hits allowed (4th least). Unlike last season, the pitching didn't take a nosedive. Of course, it helped to get some rehab innings from Brad Meyers, eight starts from the MIA in '09 and '10 Nathan Karns, and 18 innings from a AA reclamation project in the person of Christian Garcia.
As before, I'm listing the Top 12 hitters and pitchers in terms of plate appearances and innings pitched and using defensive games played for the listing of position. The full statistics for the team can be found here.
(* = 2010 Draft Pick ** = DSL Graduate Italics = 2009 or earlier Draft Pick)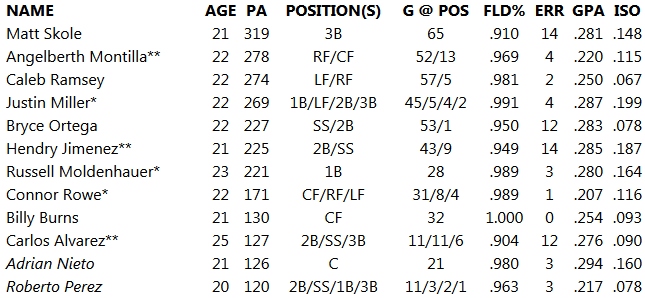 Defensively this looks like a poor bunch, but the Doubledays were actually second in the league in terms of fielding percentage, fourth in terms of fewest errors committed. Unfortunately, the catchers were abysmal at throwing out runners, with a team rate of 23% and Nieto showing serious rust (14%) before returning to form in Hagerstown (36%).
Five of these twelve hitters were assigned to the FIL (Skole, Burns, Ramsey, Ortega, Nieto). Last year, I was fooled into thinking that at least one of them might skip over Hagerstown, and even though three of them will turn 23 this fall, I will make no such assertion for 2012. But I will repeat the guess that the Suns offense should be decent again.
On to the pitchers…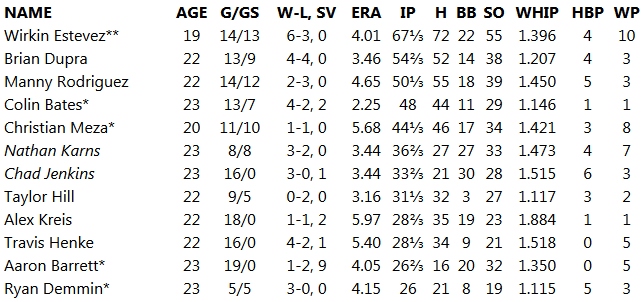 This year's draft picks made 26 of 75 starts, a marked increase from the 11 of 74 the year before (hey that rhymes!). Unfortunately, much of this can be attributed to the aforementioned upperclassmen taken. None of the starters were lights-out — Brian Dupra had the lowest ERA and WHIP of 3.46 and 1.207 respectively among the Top Five — and a fair amount of relief innings (134) came from guys with ERAs above 4.00. Ultimately, when you have a team that can mash, the pitching need only be mediocre for the team to be a winner and that's pretty much what it was.
OBLIGATORY TOP FIVE LISTS
For the second straight year, I was able to make it to the NYPL, so it's not completely sight unseen as it is with the GCL and DSL. Without further ado…
Top 5 Batters
1. Bryce Ortega
2. Matt Skole
3. Hendry Jimenez
4. Adrian Nieto
5. Billy Burns
Top 5 Pitchers
1. Wirkin Estevez
2. Taylor Hill
3. Brian Dupra
4. Manny Rodriguez
5. Christian Meza*
* This is a tough choice because I'm disinclined to choose an older player simply for the sake of have five players ranked. Digging deeper into his numbers, what jumped at me was the differential between his ERA (5.68) and FIP (3.31). Considering his age (turned 21 in August) and low HR and BB rates, I'm giving him the edge over older players (e.g. Colin Bates) or players that weren't among the Top 12 in usage (e.g. Richie Mirowski).