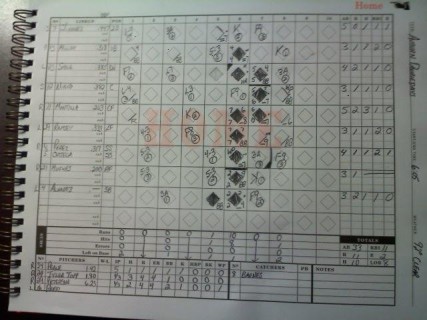 Take a look at scorecard. Savor it. Not too often you see a 9-1 game turned around so fast.
That's what happened last night in Auburn. With a 10-run sixth inning that saw 14 batters come to the plate and feartured eight hits, the Doubledays put up an inning so big the scoreboard couldn't list the "10" spot as they defeated the Jamestown Jammers, 11-9.
The win put the brakes on a three-game skid, the third of of three-or-more losses in a row already this season; they've also put together win streaks of six and four.
Take another look at that scorecard. For four and 2/3rds innings, Jamestown's Tom Peale had a no-hitter going. Hendry Jimenez broke it up with an opposite-field double to left field to drive in Carlos Alvarez — yes, that Carlos Alvarez — to break up the no-no and the shutout bid in one fell swoop.
Matt Skole started the scoring binge in the sixth with a BOMB to right field, easily 450′ plus for a solo shot. OK, no big deal. Jamestown still up 9-2. A flyout to right, one out. But then a single. A walk. A two-run double. Now, it's 9-4 and another reliever comes on.
A Hughes walk, Alvarez gets an RBI single. Jimenez strikes out. So now it's 9-5 but it looks like they'll survive. Not so fast: Justin Miller doubles down the LF line to make it 9-7. Jamestown doesn't have a reliever ready and a conference is held on the mound to stall, and remind folks that candlesticks always make for a good gift. Skole walks, semi-unintentionally; another reliever is brought in.
Adrian Nieto and Angel Montilla both single. Now it's 9-9 and Caleb Ramsey strikes the death blow with a two-run double and the 11-9 score that would become the final.
Blowouts like this are hard to make observations because the fan side of the brain takes over. But here's some quick takes anyways…
…Hughes still looked lost out in right field. He has a good arm and that's why he's there, but it's cost the team runs in both games I saw
…Meza doesn't throw hard, but he's lefthanded and his across-the-body motion is deceptive. Should his control improve, he could make for a decent middle reliever.
…Alvarez looks shorter and stockier than the 5-11, 175 (think Leonard Davis) he's listed at but has strong throwing arm. He jumped at the first pitch he saw in his first at-bat but then showed discipline in his second and third at-bats. Nothing you wouldn't expect, however, from a 25-y.o. playing below his age level.
…Jimenez looked better at second base than at shortstop but I suspect the M.O. is to keep swapping MI's until a true SS emerges from the ranks. I'd have to say Francisco Soriano may stick around in the system for this reason.
…Greg Holt has a nice 12-6 curve, good enough to throw on consecutive pitches for strikes. I know the slider and the cutter are the pitches du jour, but us old folks still appreciate the bender.
And that concludes the NationalProspects.com 2011 Baseball Roadtrip. Hope you enjoyed it. I know I did.