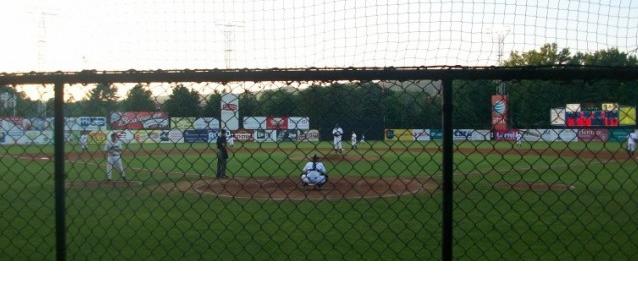 Last night it was bark in the park for the Jamestown Jammers, but the Auburn Doubledays it was a game that went to the dogs as they lost an error-filled game, 8-1.
To be fair, none of the mistakes would have made a difference in the game's outcome. Jamestown's starter, 19-year-old Jose Urena, was outstanding: allowing just two hits and two walks over seven frames and dealing some serious heat (disclosure: I tried using a borrowed pocket radar gun, but it's too distracting; now I understand why upcoming pitchers work in tandem. Better to sneak a peek at the scout's guns).
Urena set down the first nine batters in order before Hendry Jimenez pulled a clean single into right to lead off the fourth. He would be cut down two batters later trying to steal, killing the rally.
Meanwhile, local product (and 7th round draft pick) Brian Dupra (pronounced "doo-pray") was making his first professional start. He would surrender single runs in the first two innings before settling down to retire eight of nine.
For those of you who might need some background music while you read the next few grafs, click here. I needed it to write them.
As the lede says, on defense was less than stellar behind him. Officially, Rick Hughes was charged with two errors, but merciful scorekeeping kept it from being more. Six times the ball was hit to him, and just once did he field it cleanly. Simply put: he looked like a pitcher forced to play there due to injury.
Angel Montilla was charged with the other error, misplaying a Texas-leaguer, but some slack can be cut for him because the Jammer runners were aggressive and that aggression helped force the issue.
On the infield, both Matt Skole and Hendry Jimenez seemed to be slow on the trigger. Twice balls hit to Jimenez became singles, twice Skole picked the ball and then double-clutched turning a routine out into an adventure. Neither were terribly impressive otherwise.
As you might have guessed, the Doubledays got their lone run against the Jammers 'pen. Jeremy Mayo led off the 8th with a single to center and took second on a slow roller to the 3/4 hole by Hughes. After a Jimenez walk, Justin Miller missed a three-run homer by about two feet, doubling off the LF wall to drive in Mayo. Skole and Montilla both hit long flyballs to end the eighth.
Auburn got another two baserunners with one out in the 9th with back-to-back opposite-field flares by Roberto Perez and Wilfri Pena, but Mayo flew out to right and Hughes tapped another roller to second that didn't get through for the game-ending out.
The loss dropped Auburn to 12-10, two games behind Jamestown, as the two teams meet again tonight in Auburn for the next three games (with yours truly scheduled to visit on Sunday). Wirkin "For The Weekend" Estevez pitches tonight while Christian Meza appears set to go tomorrow.