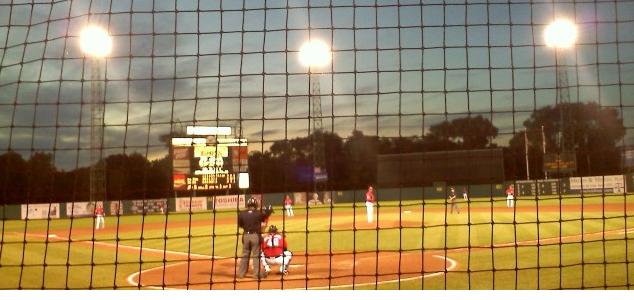 Alliance Bank Stadium is a very nice stadium — clean, comfortable, with good food and good service. Perhaps second only to Metro Bank Park in Harrisburg, which is a bit unfair because it's much older. But every bit as good as other AAA stadiums I've been to.
I figure I'd better start with something nice to say about the game's setting because there's only so much positive things that can be said about the game itself, which was a 6-0 loss with just five hits and two errors for the Syracuse Chiefs.
On Friday, I could say "Well, the other pitcher was outstanding" and while Vance Worley was very good, he was by no means out of this team's league, even if he's likely to be back in the majors (and with a contender) next week.
That's because Worley did not dominate the Chiefs. Sure, he scattered three hits over six innings, but he wasn't overpowering, striking out just three batters. But he did beat them, and he did what good pitchers do: just. get. guys. out.
On the flip side (of the scorebook), Yunesky Maya continues to disappoint. Maybe some of this is simply the gap between the puff and PR from the mainstream media and his actual performance, but he very much reminds me of Robinson Checo in the late 1990s, an underwhelming, overpriced IFA that the Boston newspapers eventually dubbed "The Dominican Mystery Man" because his reputation far exceeded his results.
Maya was charged with four runs over five innings on nine hits with zero walks, but zero strikeouts. Four of nine hits went for extra bases. The Lehigh Valley batters may have been fooled the first time they saw Maya, but like many minor-league pitchers, not the second time, with eight of the nine IronPig hits coming during the 3rd, 4th, and 5th innings.
Offensively, only Chris Marrero seemed to show any real fire, gumption, or moxie. He showed particularly good patience by evening the count three times after falling behind 0-2 in the count in his first three at-bats. And it paid off: The first time, he flew out to the warning track. The second time, he singled to right-center. The third time, he rapped a double to the LF corner.
Unfortunately, Marrero also grounded into a double play in his last at-bat, which was the theme of the night as three times the Chiefs would see rallies snuffed by the dreaded twin-killing. Marrero's GIDP stung a little more because it came after the first two batters walked in the 9th, ending whatever vain hope there may have been in denying the shutout bid.
The loss drops Syracuse to 38-49 for the season, 13 games behind first-place Lehigh Valley, as the two teams clash again tomorrow with Chad Gaudin set to start the game in another rehab outing.