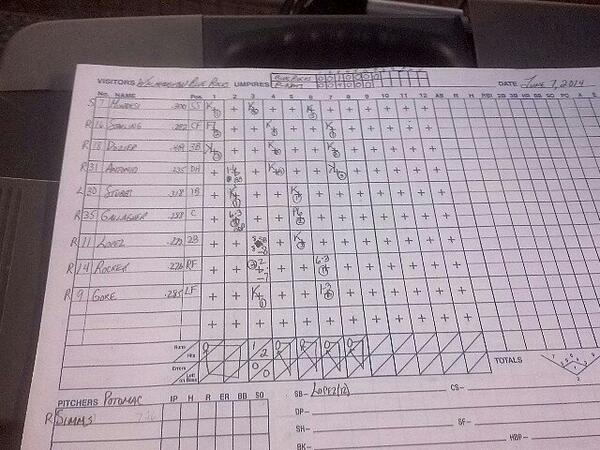 Velocity matters, but there's a difference between throwing and pitching.
John Simms reminded us of that with a masterful 14-strikeout game in a 6-1 Potomac win over Wilmington. The 22-year-old Texan topped out at 91 mph and mostly threw in the high-80s. But as the old saw goes, hitting is timing and pitching is upsetting that timing.
The Blue Rocks batters were helpless against Simms's changeup, which came in as slow as 73 mph. Not quite the Bugs Bunny slowball, but enough to induce 10 swinging strikeouts in which the batter was usually waaaaay ahead of the pitch.
Perhaps more impressive — Simms did this in just seven innings and walked only one. He did not hit a batter nor did he throw a wild pitch, for which catcher Cole Leonida, as all backstops should, deserves both mention and credit.
Thankfully, the masterful pitching was accompanied by more than enough offense, helped a little by some sloppy defense.
With one out in the 3rd, Randolph Oduber shot a bull past the Blue Rock matador playing third base to start the rally. Stephen Perez walked and the twosome pulled off a double steal to set up the No. 3 batter, Tony Renda.
Renda flared an opposite field single to deep right field to plate Oduber and Renda. Cleanup man Oscar Tejeda did just that by hitting his team-leading 9th HR with a blast to LF to complete the four-run binge and turn an early 1-0 deficit into a 4-1 advantage.
In the 6th, Will Piwnica-Worms and Cole Leonida led off with back-to-back singles to right and left, respectively. After Justin Miller tapped one to short, too slow to get more than one out, Wilmington relieve Aroni Nina threw one past the first baseman, sending in Piwnica-Worms and Miller all the way to third.
Estarlin Martinez waved at pitch up and out of the zone for a dribbler in front of the plate, but Blue Rocks catcher Cam Gallagher lost his grip and Martinez got the hometown scoring decision of a single. Oduber skied one to right to drive in Miller and complete the two-run binge that extended the lead to 6-1.
Simms, who had a streak of six straight K's from the 3rd to the 5th, struck out the side in the 7th, with the last two looking (hoping) for his first win of 2014. Ian Dickson, who was the originally announced starter, came on in relief of Simms in the 8th and spun two scoreless innings to close out the game, striking out two.
With the win and a Lynchburg loss, Potomac's magic number to clinch the first-half Northern Division title was reduced to six with one week left before the All-Star break. The two teams finish the series and their sixth game over the last six days with a matchup of Matthew Spann (4-0, 2.08) against Glenn Sparkman (2-1, 1.45) this afternoon.