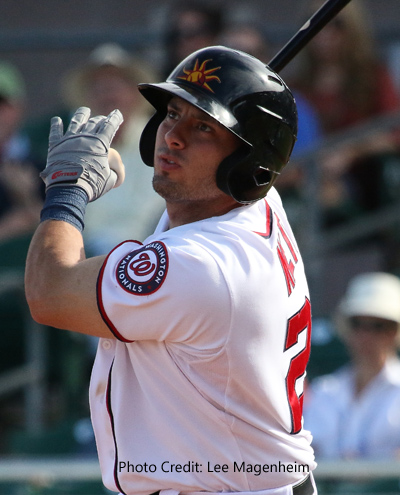 With five runs scored early and another solid outing from Sammy Solis, the Solar Sox snapped a three-game skid with a 6-1 win over the Saguaros.
Solis went four and 1/3rd innings, leaving with one out in the 5th after letting up two of the five singles he allowed. He would finish with one run allowed, one walk, and five strikeouts. He threw 74 pitches, 48 for strikes and earned his fourth win.
Kenny Faulk, the first man out of the Mesa 'pen couldn't strand both runners, walking the first two batters he faced to force in the lone Surprise run. Adrian Nieto bailed him out with a pickoff at first to squash the rally as the Tigers farmhand got the final out with a flyball to left.
Brian Goodwin and Matt Skole joined Nieto in the starting lineup.
Goodwin continues to blister the ball, going 3-for-4 with a stand-up triple and two RBIs while playing centerfield, where he played error-free and made three putouts.
Skole was the DH but whiffed three times and walked once. He now has 17K's in 14 games and is hitting .152 (7-for-46) though he's drawn 14 walks (tied for 3rd) to maintain a respectable .350 on-base percentage.
Nieto singled once — just his third hit against a LHP — and struck out twice in five ABs. He gave up his first passed ball of the fall but had six putouts.
The Solar Sox finish out the week with rematch against the Saguaros this afternoon in Surprise. Matt Purke (2-1, 3.79) is scheduled to make his sixth and perhaps final start, opposed by Cleveland prospect Will Roberts (0-1, 5.31).