Last Night in Fredericksburg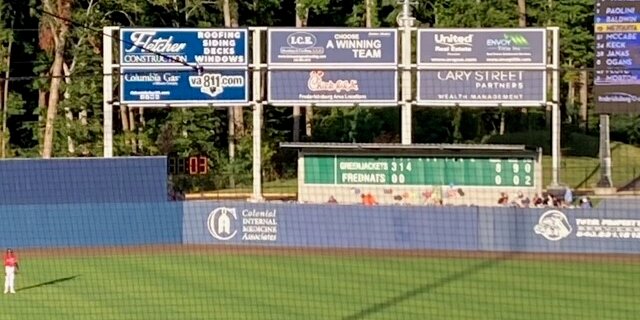 They say it ain't over 'til it's over… but, come on: It was pretty obvious it would not be a good night by the middle of the 3rd.
For whatever reason, Augusta hitters have just pwned Fredericksburg pitchers this season. Last month, the GreenJackets put up 29 runs in the first five games of the series before a shutout in Game Six. This week, it was 30 runs over the first four games.
The GreenJackets wasted no time getting to Andry Lara, stringing together back-to-back-to-back singles after a one-out walk to plate two, then adding a third with a sac fly. In the 2nd, they added another run on a pair of two-out singles, a double steal, and an error.
The wheels came off the bus in the 3rd as Augusta sent nine men to the plate and four came around to score. The final line for Lara: eight runs on eight hits and a walk over two and a 1/3rd.
After letting in an inherited runner, Miguel Gomez settled things down for two innings before the GreenJackets go to him on their second turn through the lineup, getting their ninth run on a pair of doubles and a single before chasing him with one out in the 6th. Tyler Schoff was greeted with an Earl Weaver special to make it 12-0, and the rout was on.
Meanwhile, the FredNats offense was limited to just four hits over the first six innings before loading the bases in the 7th with three singles and breaking up the shutout bid with a run on a fielder's choice. Will Frizzell gave what remained from the crowd of 5,041 a thrill with an oppo-boppo to left field for his fifth HR to lead off the 8th.
Branden Boisserie got the ninth and final hit two batters later as Fredericksburg went 1-2-3 in the bottom of the 9th. The final score: Augusta 12 Fredericksburg 2.
With the loss, the FredNats fell to 25-15 in the 2nd half but still lead the division by 4½ games. Today, they'll shoot to break the three-game slide with a rematch of Bryan Caceres (4-6, 5.52) vs. Rainiery Rodriguez (2-2, 4.42).