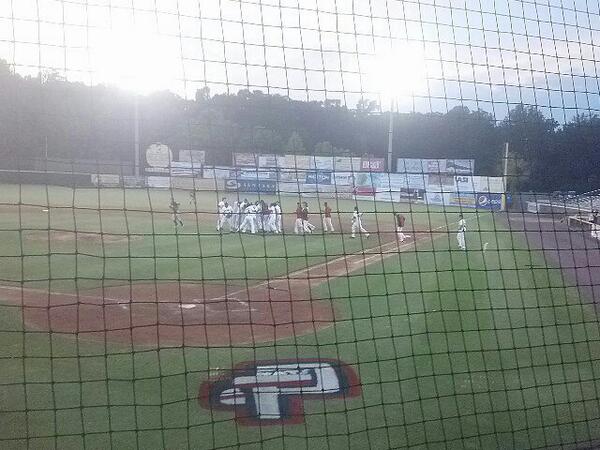 After making the error that gave back the lead to Lynchburg in the top of the 9th, Stephen Perez was up sixth in the bottom of the 9th and would need some help, if not luck, to get a shot at redemption.
Narciso Mesa drew the leadoff walk from the leadoff position, the second time he'd reached base in the game, but had had a sub-.200 OBP coming into the game. After a strikeout by Estarlin Martinez, Oscar Tejeda came up and drew the second walk of the inning.
Tony Renda, who'd singled in each of the four previous at-bats, would've been the lede had he gotten a fifth hit. Instead, he too struck out, leaving it up to Shawn Pleffner, the 6'5″ first baseman who was unable to snag either Perez error, both of which had sailed over his 9′ or so reach with a short leap.
Pleffner had already singled twice the opposite way, towards Lynchburg LF Josh Elander, who hadn't made an accurate throw all game long. Could Pleffner serve up another his way and send in Mesa for the tie? Or perhaps hit a gap and end it for sure?
Nope. Pleffner wouldn't get the chance because the umpires made the rare but easy call of catcher interference when Pleffner's bat struck the glove of Anthony Nunez, who got out of his crouch and shook his left hand while Hillcat manager Luis Salazar argued.
Bases loaded. Two out in the 9th. Perez got his chance and wasted no time by ripping the first pitch into right field to plate both the tying and winning runs and turn a 5-4 deficit into a 6-5 walkoff. Perez finished with two errors, but also drove in three runs on three hits.
Derek Self, who faced two batters in the top of the 9th — Perez's second error, and a strikeout — got the win in relief. He was the second man out of the 'pen, following Brett Mooneyham, who pitched an up-and-down two and 2/3rds innings with two runs (one earned) on three hits and three walks.
Dakota Bacus, who started the original April 28th game and was on the mound when play resumed, went the first six innings and gave up three runs (one earned) on seven hits and a walk while striking out two. The win was Potomac's 23rd and lowered their magic number to 25 over the second-place Wilmington Blue Rocks for the 1st-half title.