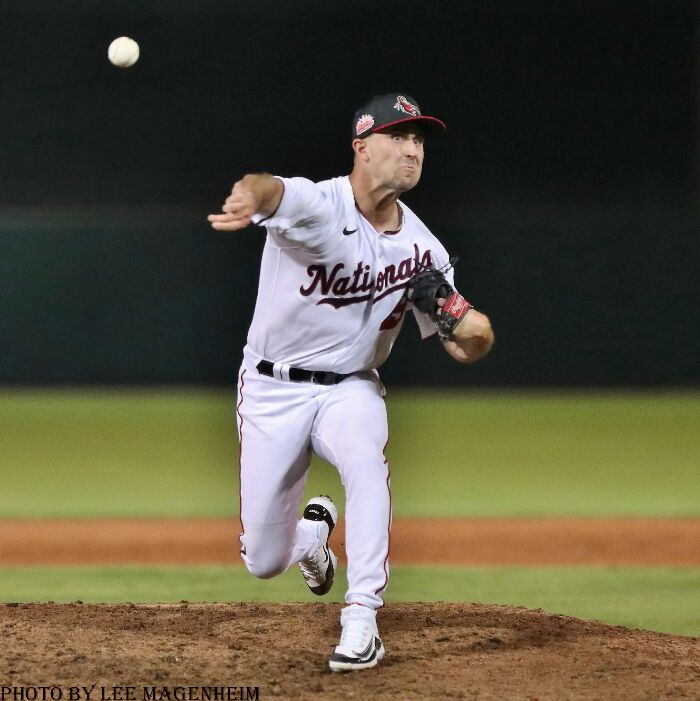 Scottsdale fell behind 6-0 after six and a half innings before scoring eight times in the bottom of the 7th. Peoria answered with two in the 8th to tie, then scored twice in the 10th to take a 10-8 lead.
The Scorpions managed to tie it with two runs in the 10th and got the winning run as far as third base before Robert Hassell struck out to end the game.
Hassell was joined in the starting lineup by Trey Lipscomb while Holden Powell (pictured above) came out of the 'pen.
Powell pitched the 9th and 10th innings and was charged with two runs (one earned) on one hit, which bounded off second base and into the outfield, and one walk. He struck out one.
Lipscomb started at third base and batted sixth. He went 1-for-5 and scored two runs, including the first run in the bottom of the 10th. He had two putouts, three assists, including a nifty backhanded stab to start the double play that ended the 10th. He also had an error on a dropped popup.
Hassell started in right field and batted second. He reached base twice with a single and a walk and scored a run. Defe sively, he had three putouts and fielded four hits.
Scottsdale remains home tonight to host Glendale.
DE JON DE GONE, ACCORDING TO REPORTS
De Jon Watson's tenure as the Director of Player Development of the Washington Nationals is over, according to the Washington Post. The move comes as the Nationals appear to continuing to reduce headcount in preparation for the team's sale that has been in the works since the spring of 2022.
Given Washington's Kremlin-esque approach to [take your pick: marketing, public relations, corporate communications, treatment of fans] it's difficult to comment beyond what's found in the article. Full disclosure: this is a fan/hobby website that, while run by a professionally trained Journalist, no longer has even a semblance of sources. And even when it did, it certainly wasn't to the extent or depth that I'm sure WaPo and others have.
That said, we can only hope that this means that the sale of the team may be sooner rather than later. Then again, I've never quite understood why laying off employees and paying out severance packages make an organization more valuable. Too often, it's the longtime employees who have the most institutional knowledge that go first, leaving behind the least expensive and least competent.
TL; DR: ¯\_(ツ)_/¯