Last Night in Fredericksburg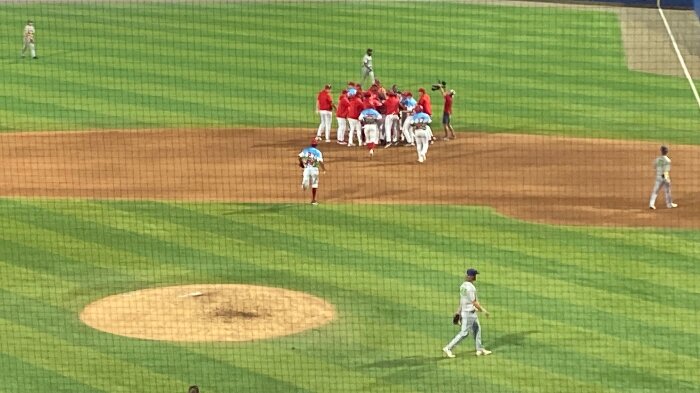 It was almost a tale of three games as the two teams both scored a run on sloppy defense in the 1st, traded zeroes for five straight innings, then played the game of which bullpen would do worse before the FredNats walked off the Hillcats, 4-3 in 10 innings to keep their slim playoff hopes alive.
Starter Luke Young would be the hard-luck loser on the night. Not literally, mind you, but figuratively as his seven innings of brilliance would be rewarded with a no-decision as the 21-y.o. had the "W" erased by two unearned runs in the 9th. The Hillcats forced extra innings with the assistance of an error by Roismar Quintana with one out, then with two outs, Nick Pogue issued a walk and hit a batter with the bases loaded to send in the equalizer.
Instead, the win would go to Bubba Hall, who issued a one-out walk in the 10th but kept the free runner from advancing to third on a nifty 6-5 putout as the Lynchburg backstop was thrown out trying to advance to third base.
After loading the bases with one out in the botttom of the 9th, only to pop out to the catcher and strike out on a 3-2 pitch. Fredericksburg wasted little time in the 10th, capitalizing on the Hillcats' fourth error to push the free runner to third, which set up Armando Cruz to deliver the piano-carrying Quintana home with the game-winning run for his third walk-off hit of the season (ninth overall for the team).
The win enabled Fredericksburg to keep pace with Carolina, though the FredNats' tragic number was reduced to five with seven games to play.
The two teams conclude the series this afternoon, with RHP Travis Sthele (0-0, 7.36) taking the hill for Fredericksburg against RHP Alonzo Richardson (6-7, 5.10) for Lynchburg.