| | | | |
| --- | --- | --- | --- |
| Team | Yesterday | Today | Pitching Probables |
| Rochester | Lost, 8-2 | ALL STAR BREAK | N/A |
| Harrisburg | Lost, 5-1 | ALL STAR BREAK | N/A |
| Wilmington | Lost, 7-2 | ALL STAR BREAK | N/A |
| Fredericksburg | Postponed | ALL STAR BREAK | N/A |
| FCL Nationals | OFF DAY | ALL STAR BREAK | |
| DSL Nationals | OFF DAY | @ DSL Brewers 2, 11 a.m. | |
Buffalo 8 Rochester 2
• Espino (L, 4-3) 6IP, 5H, 5R, 1ER, 2BB, 3K, HR
• T. Romero 4BF, 1H, 3R, 3ER, 3BB, 0K, WP
• Rutherford 2-4, GIDP
• Millas 1-4, 2B
A four-run 2nd broke turned a 1-0 game into a five-run lead for the Bison, who cruised to an 8-2 win over the Red Wings to earn the series split. Paolo Espino took the loss, as he was charged with those five runs (one earned) on five hits (one HR) while walking two and striking out three. Whatever hope Rochester had for a comeback was dashed when Tommy Romero walked the bases loaded and gave up a two-run single in the 8th, leaving without recording an out. Blake Rutherford led the Rochester hit column with two singles while Drew Millas had the only extra-base hit (double).
Akron 5 Harrisburg 1
• Saenz (L, 0-3) ⅔ IP, 2H, 2R, 2ER, 3BB, 0K
• Knowles 2⅓ IP, 2H, 0R, 0BB, 3K, 3-0 IR-S
• Arruda 2-3, RBI
• J. Young 1-3, BB, OF assist @ HP
Akron jumped Harrisburg for two in the 1st and two in the 5th as they took the game (and the series), 5-1. Dustin Saenz didn't make it out of the 1st as he was lifted after retiring just two of seven batters faced, with two runs charged on two hits and three walks. Lucas Knowles minimized the damage by stranding three while getting out of the 1st and tossing tow scoreless innings. In the 3rd, Jackson Cluff and J.T. Arruda teamed up with a double and a single respectively to get the Senators on the board. Arruda's hit would be the only one in four RISP chances as Harrisburg collected seven hits and two walks total.
Brooklyn 7 Wilmington 2
• Luckham 6IP, 3H, 1R, 1ER, 2BB, 3K, HBP
• Huff (L, 2-4) 1⅓ IP, 5H, 4R, 1ER, 0BB, 0K
• Fox 2-4, RBI, E(4)
• Barley 1-3, E(13)
The Blue Rocks briefly led this one 2-1 after seven, then coughed up four in the 8th and two in the 9th to lose the game, 7-2, and the series, 5-1. Kyle Luckham turned in his third quality start, allowing one run on three hits, two walks, and a hit batsman over six innings. He was rewarded with a no-decision. Chance Huff failed to record a clean outing for the sixth straight appearance and lost his fourth game. He was spun for four runs on five hits over an inning an a 1/3rd. Lucius Fox singled twice to lead the five-hit assault on the Cyclones pitchers, but also committed his fourth error in 10 games for Wilmington.
Ferdericksburg vs. Delmarva – PPD
Rain postponed the finale between Fredericksburg and Delmarva, which gave the FredNats a 3-2 series win going into the All Star break. They'll make this one with a doubleheader on September 6.
FCL Nationals, 10-13, 4th Place FCL East, 4½ GB
After a 2-3 week, the F-Nats remain mired in 4th place in the FCL East. Truth be told—no, lie to us!—it's a wonder they're not in last place and/or further behind, "thanks" the league's second-worst pitching. Perhaps that'll change when the draft picks start to trickle in and the former prospects get pushed up or out.
DSL Nationals, 4-20, 9th Plac DSL South, 14GB
The DSL Nationals are for gunning for their first winning streak today after finishing up last week with back-to-back wins on Friday and Saturday. They're also the only team not to have any interruption this week, with home games today, Thursday, and Saturday and road games on Tuesday and Friday.
# # #
2023 DRAFT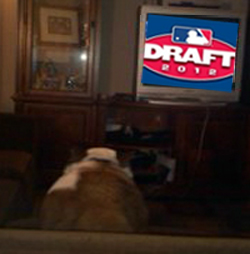 The first two rounds of the draft were last night. It'll be rounds 3-10 this afternoon, then 11-20 tomorrow. As many of you know, the Draft is just not my thing. My time has become even more limited, especially now that all four adults in this house are working (but only two can drive), so it seems silly to spend too much of it speculating on who might get picked versus who did get picked… never mind what they were wearing last night.
I'm not terribly worried though. We have a pretty good community of commenters here and we'll muddle through this little slowdown. [Insert Dulcolax joke here]. The D-Nats will give us a little something to talk about, since Wednesday is the only day this week with no games at all.
Otherwise, I'll just keep the lights on and comments section going…