Last Night in Fredericksburg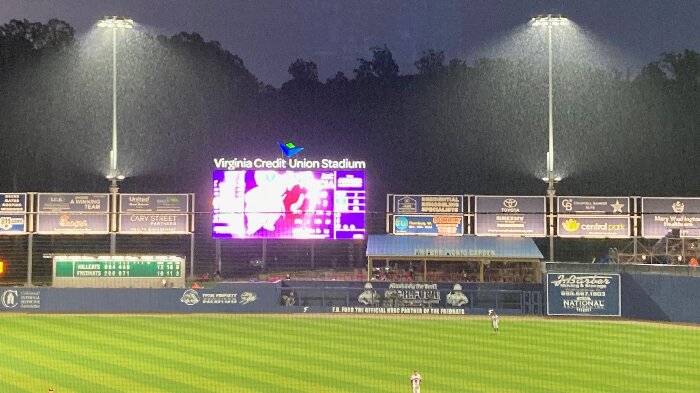 We'll never know if Fredericksburg might have come back from 12-2 down to win this one, as the rains came on a Saturday Forrest Gump pause again and shortened the game to 6½ innings for a 12-10 win for Lynchburg.
In many ways, it was probably for the best that they didn't get the chance as the FredNats certainly didn't deserve to win. Erik Tolman and Pedro González were mauled for 12 runs and 15 hits combined. It's hard to be charitable and/or gloss over three triples and two doubles, even if the FredNats were fielding two outfielders and the second coming of Raudy Read (a.k.a. Roismar Quintana). The Hillcats were getting the hits and making the Fredericksburg throw…er, pitchers pay for their mistakes.
It is, however, admirable that Fredericksburg was able to fight back for seven runs in the 5th – even if they got help from the Hillcats' Austin Peterson hitting not one, not two, but three batters in the inning (yes, there was a Homer Simpson RBI).
Paul Witt led the FredNats' 11-hit parade with two singles and a double, followed by Cortland Lawson with two singles and a walk, and Daylen Lile with a single and his 20th double.
The 'Burgs finish the three-game series today with Jose Atencio (3-4, 5.67) slated to make his sixth start for Fredericksburg, opposed by Zach Jacobs (5-2, 4.83) for Lynchburg.