Last Night in Fredericksburg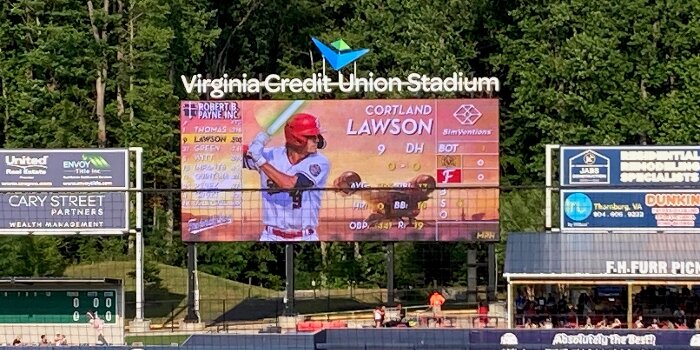 After Paul Witt's team-leading seventh HR put Fredericksburg up 3-0, it looked like the FredNats were back on track after Friday night's hiccup. Instead they fell 6-4 for their first back-to-back losses since May 17-18
After the 1st, the hits stopped coming for FredNats and the RiverDogs started nipping. Charleston got single runs in the 2nd and 4th and had multiple hits in four of the next five innings.
After the seventh-inning stretch, Fredericksburg still led, 3-2, despite getting outhit 9-3. After going big early, they went small in the 7th and converted a leadoff walk into a run with sacrifice bunt, a single, and a sacrifice fly to take a 4-2 lead.
As with any Jarlin Susana start in 2023 (still has yet to pitch in the 5th after nine appearances), the Fredericksburg bullpen was going to have to shoulder the load. But during the resurgence that saw the FredNats make it back to .500, the relievers had suddenly gotten better and more reliable.
But the force was not with the bullpen on Star Wars night. Jose Atencio managed to dodge bullets in the 5th and 6th, giving up four hits and stranding three runners. After a 1-2-3 seventh, it looked like he may have been getting stronger.
Instead, Charleston led off with a double to left and followed with an RBI single to right to end Atencio's night. Pedro González was summoned to stop the rally, but instead continued by giving up back-to-back singles to tie the game. The RiverDogs helped him out with some bad baserunning, and González rolled the two groundballs he needed from the outset to get out of the inning.
In the bottom of the 8th, Sammy Infante led off the inning with his second single… and then got thrown out easily on a delayed steal. He then fitted himself with another pair of goat horns in the top of the 9th with his seventh error that put the go-ahead run on. It probably didn't matter because the next batter went deep for the killshot that became the final score of 6-4.
Starter Susana was charged with two runs on five hits and two walks while striking out three. Atencio allowed the next two tallies on six hits over three-plus innings. González suffered his first loss and first blown save as he allowed both inherited runners in the 8th and the final two runs in the 9th.
The series concludes this afternoon with a rematch of Riley Cornelio pitching for Fredericksburg and Trevor Martin taking the hill for Charleston.