Last Night in Fredericksburg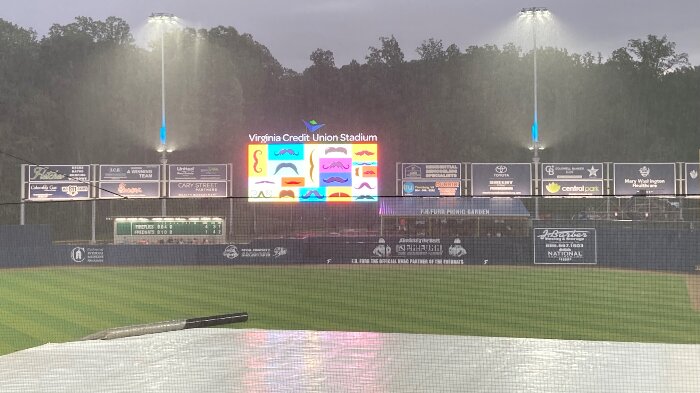 After a crazy Friday night, why wouldn't it rain on Saturday night to force a doubleheader on Sunday afternoon (a getaway day for both teams)?
The two teams had just wrapped up four full innings and were six outs shy of an official game when the sky opened up a little more than an hour after first pitch. Everyone knew this might happen – the forecast had called for rain starting at around 7 p.m. and lo and behold (it's never just lo, is it?) that's when it began to rain.
Looking at the probables, it looked like a mismatch – 20-y.o. Bryan Sanchez, sporting a 7.64 ERA, vs. David "The Sandman" Sandlin, unbeaten in seven starts though with a fairly mundane 3.31 ERA.
Sanchez struck out in two in the 1st and two in the 2nd. But Columbia wasn't as fooled on the second turn through the lineup and scored four runs, highlighted by a three-run HR to right-center to turn a 1-0 lead into a 4-1 deficit, and fulfilling the expectations one might have had from looking at the matchup.
The 20-y.o. put on two more runners after the big fly, which summoned manager Jake Lowery to get Sanchez and bring in the O.B. (Other Bryan) to get out of the inning, which he did. Caceres then worked a scoreless 4th.
After falling behind 4-1, the FredNats were mowed down in the 4th, nearly in order as Cortland Lawson, who drove in the lone Fredericksburg run with a triple in the 2nd, drew a walk then got picked off to end the inning.
The fifth inning never got started as the grounds crew rolled out the tarp around 7:10 p.m. and were trying to remove it about an hour later before the rains came back after letting up briefly. This led the umps to call it a night.
They'll resume this one this afternoon, then play a seven-inning game afterwards.