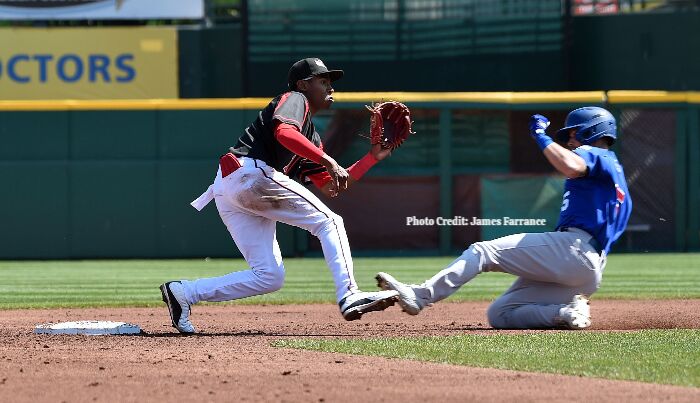 | | | | |
| --- | --- | --- | --- |
| Team | Yesterday | Today | Pitching Probables |
| Rochester | Won, 7-6 | vs. Buffalo, 1:05 p.m. | Abbott (1-1, 6.30) vs. Hutchison (0-0, 3.00) |
| Harrisburg | Lost, 4-3 | vs. Richmond, 1 p.m. | Troop (0-1, 10.80) vs. Tang (0-0. 0.00) |
| Wilmington | Won, 3-2 | vs. Hickory, 1:05 p.m. | Huff (0-0, 10.13) vs. Rocker (1-0, 0.00) |
| Fredericksburg | Lost, 14-7 | @ Fayetteville, 2:05 p.m. | Aldonis (1-2, 4.39 @ A- in '22) vs. Dombrowski (1-0, 4.15) |
Rochester 7 Buffalo 6
• Peralta 2⅓ IP, 6H, 5R, 5ER, 2BB, 1K
• Kilome (W, 1-1) 1⅓ IP, 1H, 1R, 0ER, 1BB, 0K
• Weems (SV, 1) 1IP, 0H, 0R, 0BB, 1K
• Baker 3-5, R, RBI
• W. Garcia 2-3, R, 2RBI
• Mazara 2-5, R, RBI, OF assist @ 2B
• 6-20 RISP; 10 LOB
The Red Wings extended their streak to four wins with a 7-6 decision over the Bisons. Wily Peralta took the hill at the outset and was lit up for five runs on six hits and two walks over two and a 1/3rd innings. Rochester once again emptied the 'pen like an FCL game as five relievers combined for six and 2/3rds innings of one-run ball with Franklyn Kilome getting the win, Jose Ferrer and Alberto Baldonado a hold apiece, and Jordan Weems the save. Darren Baker led the 12-single attack with three safeties—which extended his hit streak to five—followed by Wilson Garcia and Nomar Mazara with two hits each.
Richmond 4 Harrisburg 3
• Herrera (L, 0-1) 4⅔ IP, 7H, 4R, 3ER, 2BB, 2K
• Alston 2IP, 1H, 0R, 0BB, 3K
• Frizzell 2-4, 2B, RBI
• Valera 1-4, R, 3B
Harrisburg's modest win streak ended at three with a 4-3 loss to Richmond. Ronald Herrera gave up all four Flying Squirrel runs on seven hits and two walks over four and 2/3rds inning while striking out two. Garvin Alston led a trio of relievers with two of the four and 1/3rd scoreless relief innings pitched. The Senator offense was unable to take advantage of the shutdown and was shut out over the last four innings. Two Harrisburg batters reached base twice, as Will Frizzell singled, doubled, and drove in a run while J.T. Arruda drew two of the Sens' four walks on the night.
Wilmington 3 Hickory 2
• Luckham 4IP, 2H, 0R, 2BB, 4K
• Schoff (W, 1-0) 2IP, 0H, 0R, 0BB, 1K
• Sinclair (SV, 2) 1IP, 2H, 1R, 1ER, 0BB, 1K
• Farmer 2-3, R, HR, 2RBI
• Wood 1-3, BB,
Caleb Farmer's two-run homer in the bottom of the 7th broke a 1-1 tie as the Blue Rocks held off the Crawdads for a 3-2 win. Kyle Luckham went the first four innings and allowed four baserunners but no runs while striking out four. The win went to Tyler Schoff with two perfect innings. Jack Sinclair notched the rulebook save despite giving up a run on two hits in the 9th. Farmer, who also singled in the 5th, and James Wood (who else?) both reached base twice with Wood drawing one of the four Wilmington walks.
Fayetteville 14 Fredericksburg 7
• Lord 5IP, 8H, 3R, 3ER, 2BB, 1K
• Ulloa (L, 0-1) 1⅔ IP, 4H, 6R, 6ER, 1BB, 0K, HR(GS)
• House 2-3, R, BB, 3B, 2RBI
• Infante 2-4, R, HR, 2RBI
• Cruz 2-5, R, 2B, RBI
Fredericksburg dropped its fifth straight to Fayetteville with a 14-7 beatdown. Brad Lord made his first start of the season and gave up three runs on eight hits over five innings. He walked two and struck out one (1). Alas, the FredNats relievers that followed were stomped on like a narc at a biker rally with 11 runs let in on eight hits, including a three-run HR and a grand slam. Brady Hosue led the Fredericksburg offense with a walk, a single, a triple, and two RBI, a figure matched by Sammy Infante with a two-run homer in the 7th.