Last Night in Fredericksburg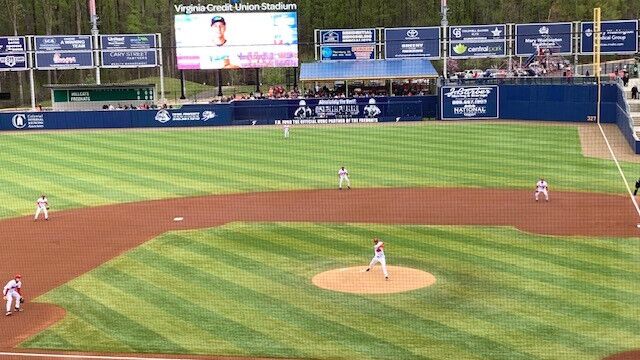 One night after Jake Bennett impressed, Jarlin Susana disappointed as the FredNats dropped a sloppy 7-4 decision to the Hillcats.
Susana, who had finished 2022 on a sour note with a 5-2 loss to the Hillcats in Game Two of the '22 CLDS, struggled again with walks to two of the first four batters he faced. As is often the case, there was much ado about the lack of velocity on the Twitters, with some questioning if the stadium gun were off since the 19-y.o. was "only" throwing 95 mph in the 50-overcast-and-breezy weather (though he did hit triple digits on a couple of pitches).
While it's not as good a view as it was from H-BB-4 at the Pfitz, it was nevertheless plain to see from the press box at Virginia Credit Union Stadium that the 19-y.o. was struggling with his mechanics, if not the cold itself. This was very easily the lowest temperature the native of the D.R. had ever seen while pitching as a professional, having been in Arizona, Florida, and Virginia in August last summer.
Susana gave up three runs on three hits in the 1st and another run in the 2nd. He walked two and struck one in both innings he pitched, throwing 29 pitches total and just 11 for strikes. He also committed a balk and threw two wild pitches.
Meanwhile (back at the ranch), the offense scratched out single runs in the 1st and 2nd innings with the help of a balk, an error, and two wild pitches. In the 7th, they got two more without a hit, taking advantage of a fielder's choice in which the pitcher threw to second base without a fielder at the bag. Against a more disciplined defense, this might have been a shutout.
Armando Cruz and Elijah Green both singled twice to lead the FredNats attack while Brenner Cox stole a base and teamed up with Cruz to throw out a runner trying to stretch a double at 3rd.
The series concludes this afternoon with Pablo Aldonis taking the hill for Fredericksburg, opposed by Alonzo Richardson for Lynchburg.