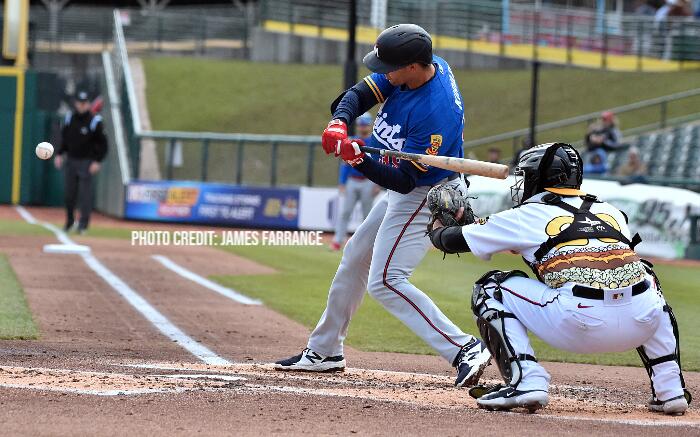 | | | | |
| --- | --- | --- | --- |
| Team | Yesterday | Today | Pitching Probables |
| Rochester | Lost, 5-1 | vs. St. Paul, 6:05 p.m. | Abbott (1-3, 8.50) vs. Richardson (0-2, 9.00) |
| Harrisburg | Lost, 7-5 | vs. Somerset, 7 p.m. | Troop (1-1, 7.56) vs Beeter (2-1, 1.08) |
| Wilmington | Lost, 7-2 | vs. Aberdeen, 6:35 p.m. | Saenz (0-1, 6.75) vs. Bright (0-1, 3.12) |
| Fredericksburg | Won, 13-4 (7 inn.) | @ Lynchburg, 6:30 p.m. | Atencio (0-2, 12.15) vs. Y. Gomez (0-1, 6.75) |
St. Paul 5 Rochester 1
• Peralta (L, 0-1) 4⅔ IP, 1H, 3R, 3ER, 3BB, 3K, HR, HBP, WP
• Mujica 2IP, 2H, 0R, 0BB, 2K, PTV
• Baker 2-4, RBI
• Martin 2-4, R, 2B, SB
A pair of walks and two-out three-run HR in the top of the 1st stood up as the Saints cleaned the Rochester Plates, 5-1. Wily Peralta was otherwise good as he pitched into the 5th and walked three batters total while fanning five. Darren Baker broke up the shutout with a two-out single to drive in Richie Martin, who had singled and stole second with one out. Martin and Baker both went 2-for-4 while the rest of the lineup went 0-for-27 with three walks. Roster moves: IF Ildemaro Vargas assigned from Washington for MLB Rehab.
Somerset 7 Harrisburg 5
• Herrera (L, 0-2) 5⅓ IP, 5H, 6R, 5ER, 2BB, 4K, WP
• Peguero 1⅔ IP, 3H, 1R, 1ER, 2BB, 1K, PTV, 2-2 IR-S
• Dunn 2-4, R, BB, 2B, RBI
• Millas 2-3, R, BB
• Arruda 1-4, BB, SB
Harrisburg took a 4-2 lead with a four-run 5th only to see Somerset raise them with five in the top of 6th. The Sens got one back in the 8th but fell, 7-5. Ronald Herrera was charged with six of those runs on five hits and two walks over five and a 1/3rd innings to take the loss, his second of the season. Drew Millas singled twice and walked once while Jack Dunn singled, doubled, and drove in a run to lead the Harrisburg offense, which left on 10 men while going 2-for-9 with RISP.
Aberdeen 7 Wilmington 2
• A. Lara (L, 0-2) 3IP, 7H, 6R, 6ER, 0BB, 1K, HR
• Pogue 2IP, 0H, 0R, 0BB, 3K
• Lipscomb 1-1, 2BB, SF, RBI
• Y. Rivero 2-4, CS
The IronBirds strafed Blue Rocks starter Andry Lara for six runs on seven hits (one HR) in a 7-2 win over Wilmington. Lara went just three innings and struck out one without issuing a walk in his second loss. Four relievers combined for six innings of one-run relief, led by Nick Pogue with two perfect frames. Both Blue Rocks runs scored on a sac fly, with Leandro Emiliani going deep-enough in the 2nd and Trey Lipscomb doing the same in the 4th. Wilmington managed seven hits and five walks total, with Lipscomb reaching base three times on a single and two walks and Yoander Rivero connecting for two safeties in four trips to the plate. Roster moves: C Onix Vega reassigned from Rochester.
Fredericksburg 13 Lynchburg 4 (7 inn.)
• Cornelio (W, 1-2) 5IP, 4H, 4R, 1ER, 2BB, 4K, HR
• Marquez 1IP, 0H, 0R, 0BB, 1K
• Lile 3-4, 3R, BB, 2-2B, RBI
• House 2-3, 2R, 2BB, 2RBI, E(2)
• Thomas 2-3, 3R, 2SB (5,6)
• Infante 2-4, BB, RBI, SB(7), E(4)
Fredericksburg's offense and the weather helped solve the FredNats bullpen woes. The former eviscerated Lynchburg pitchers for 13 runs on 13 hits while the latter took away three Lynchburg "ups" in a 13-4 beatdown. Riley Cornelio picked up his first professional win with four runs let in (one earned) on four hits and two walks over five innings while fanning four. The FredNats broke a 3-3 tie with a four-run 4th, then sent ten men to the plate in the 5th with six of them coming 'round to score – the last four on a Roismar Quintana grand slam. Robert Hassell was the beer man in the Fredericksburg assault, though he did reach base on a walk. Daylen Lile led the hit parade with a single and two doubles, followed by Brady House, Sammy Infante, and Johnathan Thomas with two singles apiece. Roster moves: RHP Jose Ulloa reassigned to XST; LHP Franklin Marquez reassigned from XST.