Nats Win, But Perhaps Lose, 5-0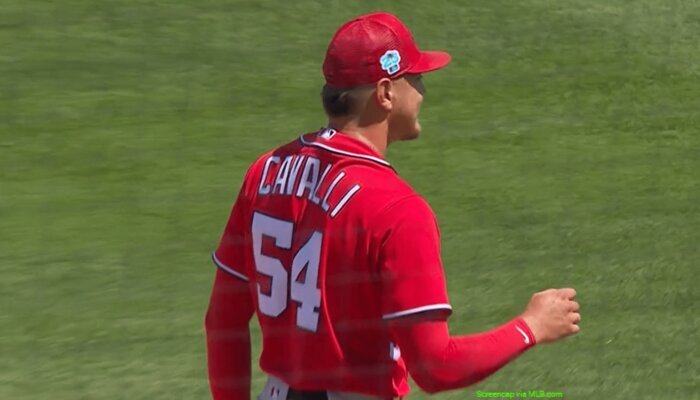 But in this world, nothing can be said to be certain, except death, taxes, and the suff'ring of injury by a base-ball pitcher in Washington — Benjamin Franklin, April 31, 1791 (citation needed)
The Ides of March came a day early for Cade Cavalli, as the 24-y.o. exited yesterday's game with an apparent elbow injury in the third inning.
It was his 43rd pitch on what was an otherwise strong outing—no hits, no runs, one walk, one strikeout—that sailed up and away from Brandon Nimmo, who indicated to Keibert Ruiz almost immediately that Cavalli was doing the dreaded elbow shake.
Cavalli is expected to have an MRI today prior to going into witness protection to determine the extent or cause of the injury.
Despite another roster cutdown that saw RHP Jake Irvin and LHP Matt Cronin optioned to Rochester, and RHP Jackson Rutledge optioned to Harrisburg (reminder: that a player or pitcher is optioned to a given roster does not necessarily mean that is where he will begin the season), several watchlist players were inserted into Washington's 5-0 win yesterday:
RHP Thad Ward relieved Cavalli to finish the 3rd, then pitched two more scoreless innings to pick up the "W." He allowed two hits, no walks, and struck out two while throwing 41 pitches, 30 for strikes
Elijah Green followed Victor Robles in CF and went 1-for-2 with an RBI but was caught stealing
Leandro Emiliani subbed for Matt Adams at 1B. He singled and scored a run in the 9th
Jeter Downs replaced C.J. Abrams at SS. He struck out in the 7th and got hit by a pitch and scored a run in the 9th
Daylen Lile followed Alex Call in LF. He lined out in the 7th and connected for an RBI single in the 9th
Trey Lipscomb replaced Michael Chavis at 3B. He drove in the last two runs with a one-out single in the 9th
Jacob Young followed Stone "Action News" Garrett in RF and flew out in the 9th
T.J. White pinch-hit for DH Corey Dickerson and struck out to end the 8th
Winder Diaz played the 9th inning at 2B, but had no defensive chances
The Nats remain on the road as they visit the Marlins this afternoon in Jupiter. LHP Patrick Corbin is expected to make his fourth spring start. The game can be heard on MLB Audio with the Miami radio team on the call.