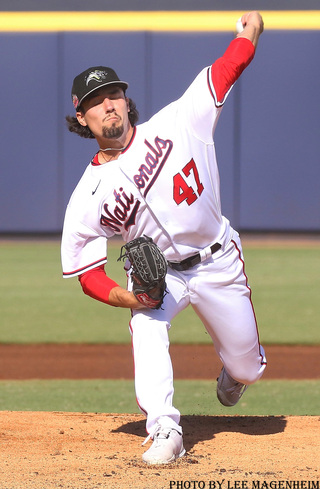 A seven-run 3rd proved to be too much to overcome as Peoria dropped its second straight, losing to Mesa, 12-11.
The good news is that five Nationals saw game action. The bad news is that the two pitchers were charged with nine of the 11 runs given up by the Javelinas.
Tim Cate (right) was in midseason form (July) as he was knocked from the box in the first inning after retiring just two of seven batters faced on 28 pitches (16 for strikes). He gave up four runs on three hits, including a two-run HR following a one-out walk. The 25-year-old also hit a batter and balked in a run.
Lucas Knowles (left) came on in relief and rolled a grounder to get out of the inning, stranding one runner. After a 1-2-3 second inning, the 24-y.o. Washington state native ran into trouble in third as he, too, gave up a one-out big fly. Knowles got a second out but then saw the next four batters reach base. He left with the bases loaded, two outs, and the score tied at 6-6.
The Mets' Grant Hartwig brought the gas to put out the fire, hitting the first batter he faced before coughing up a grand slam to put Peoria in an 11-7 hole.
Darren Baker, Yasel Antuna, and Brady Lindsly (below) were all in the Javelinas starting lineup:
Baker led off and played second base, going 1-for-4 with two walks and three runs scored.
Antuna batted eighth and played LF. He was 0-for-4 with a walk and two runs scored.
Lindsley caught and was the 9th batter. He reached base twice with a walk and a single.
The two teams will switch venues and rematch on Monday.