AFL/Offseason Update: Oct. 15, 2022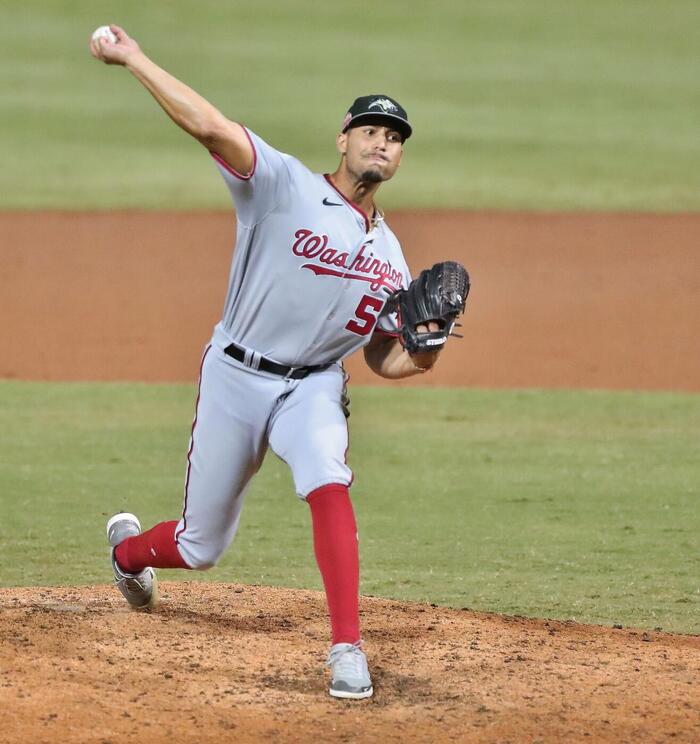 The Javelinas erased an early 2-0 deficit with a two-run 2nd, then added three in the 3rd en route to a 7-2 win in seven innings.
Just two Nationals appeared in the game.
● Yasel Antuna was the nine-hole batter and went 0-for-2 with a walk, lowering his fall BA to .267 and his OBP to .467 in five games. Defensively, he fielded a single and a double and made no errors.
● Orlando Ribalta (pictured) was the second Peoria reliever to appear in the game and tossed two scoreless innings, allowing no runs, no walks, and two hits. He threw 31 pitches, 22 for strikes but did not strike anyone out.
Tim Cate is expected to make the start as the Javelinas and the Scorpions are in the middle game of a tripleheader at Chase Field today. The game may be streamed here with 6:05 p.m. ET start.
# # #
2022 FCL NATIONALS
A year ago, we were left to wonder why it took so long for the 2021 Draft Picks to start playing (late August). This year, it was closer to the second week of August.
We still don't know if this is the new normal or not, especially with what seemed to be an inordinate number of 23- and 24-y.o. players playing, but it certainly does appear that the first two months of the FCL season are now dedicated to seeing who's going to stick around after the draft and how the new blood from the D.R. is doing.
Perhaps it won't be remembered like the '87 Jays, the '07 Mets, or the '64 Phillies, but the '22 FCL Nats did manage to blow a 2½ game lead in the final week of the season to fall into a tie with the FCL Mets, then lose on the second tiebreaker by finishing 8-12 vs. the F-Mets' 12-8 mark (the two teams split their 12 games head-to-head).
Faux angst aside, the team still finished 33-22, which was the best since the 2017 GCL Nats (34-22), a team that featured both Luis García and Yasel Antuna as 17-y.o.'s. You already knew that the batters were the league's oldest (20.6 vs. 19.7) but the pitchers were only a shade older than the league average (21.1 vs. 21.0).
Offensively, the team was sixth-best at 5.07 R/G (4.85) while the pitching was No. 5 (4.44) though I doubt anyone did the mambo. The defense was a little worse than average (.959 FPct. vs. .964) except behind the plate, where the team had only six passed balls (12) and threw out 32% of basestealers (29%).
Like a year ago, there was a cluster of five players with 100+ PA (embarrassingly, this included a legacy repeating the level) at the plate, and just three pitchers who had more than 30IP.
Same caveat: The sample sizes here are even smaller than usual for this level, so your mileage may vary.
TOP 5 BATS
TOP 5 ARMS
1. Elijah Green, CF
.316 GPA, .404 OBP, .535 SLG% in 52PA
1. Jose Atencio, RHSP
2.70/2.44/1.05, 1.35 BB/9IP in 26⅔ IP
2. Christopher De La Cruz, CF/LF
.260 GPA, .370 OBP in 92PA
2. Kevin Rodriguez, RHRP
1.31/2.33/1.31, 11.32 K/9IP, 2.18 BB/9IP in 20⅔ IP
3. Roismar Quintana, RF
.264 GPA, 5HR, 28RBI, 46K in 50G
3. Pablo Aldonis, RHSP
4.39/3.00/1.16, 11.14 K/9IP, 1.69 BB/9IP in 26⅔ IP
4. Erick Tejeda, 1B
.250 GPA, .354 OBP in 32G
4. Frankin Marquez, LHRP
5.72/3.90/1.82, 2.22 BB/9IP in 28⅓ IP
5. Brenner Cox, LF/CF
.265 GPA, .366 OBP in 42PA
5. Adrian Ogando, RHRP
1.52/3.93/0.94, 2.08 BB/9IP in 29⅔ IP
Honorable mentions go to 21-y.o. Angel Gerardo, who had a .247 GPA in 35G, and 20-y.o. Jose Cedeno, a near statistical twin to Ogando (3.96 FIP, 0.96 WHIP in 30⅓ IP).
And before anyone goes all MASN Commenter, 18-y.o. Armando Cruz was below-average at .235 GPA (lg. avg. .244) and made 16 errors in 51 games. Doesn't mean he's not a prospect, he's just not among our meaningless Top 5's.
Like the DSL, there are a more than few repeats (13 batters and eight pitchers, excluding rehabs) which I think is not as bad a thing as it used to be, given the elimination of the SS-A level.
Folks who are interested in looking over the team stats can find them here while the FIP data is available here.