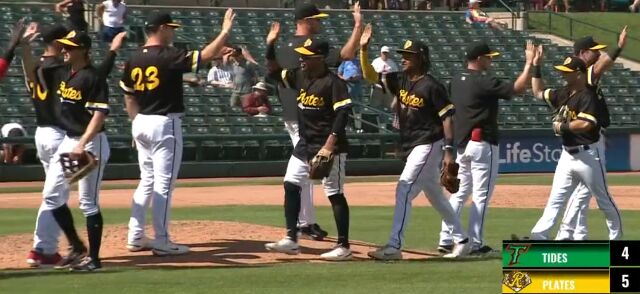 Team
Yesterday
Today
Pitching Probables
Rochester
Won, 5-4
(Wait. What?)
vs. Norfolk, 7:05 p.m.
Kilome (1-3, 6.27) vs. Baumann (1-5, 4.57)
Harrisburg
Lost, 3-1
vs. Reading, 7 p.m.
Irvin (0-4, 5.15) vs. Anderson (0-0, 33.75)
Wilmington
Lost, 7-6
(12 inn.)
vs. Brooklyn, 6:35 p.m.
Saenz (1-3, 6.98) vs. Santos (6-10, 4.12)
Fredericksburg
Won, 8-2;
Lost, 8-7
vs. Augusta, 7:05 p.m.
Rutledge (5-5, 5.48) vs. Vargas (4-4, 3.98)
FCL Nationals
Lost, 14-5
vs. FCL Astros Blue, 12 p.m.
DSL Nationals
Lost, 2-1
OFF DAY
Rochester 5 Norfolk 4
• Murphy 3IP, 1H, 1R, 1ER, 1BB, 3K, HR
• Verrett (W, 5-7) 5IP, 4H, 3R, 1ER, 0BB, 4K, HBP
• Weems (SV, 12) 1IP, 0H, 0R, 1BB, 2K
• Call 2-3, R, SB
• Noll 2-4, R, HR(10), 3RBI
• Ad. Sanchez 1-3, BB, RBI
Adrián Sanchez's RBI single in the 6th capped a four-run rally to give the Red Wings a 5-4 lead. The Tides got the tying run on in both the 8th and 9th innings, but neither scored to end Rochester's 19-game losing streak. Patrick Murphy opened the game with a run on a first-inning home run over three innings. Logan Verrett pitched five innings of relief, allowing the last three runs (one earned) on four hits, no walks, and four whiffs. Jordan Weems struck out the first two batters in the 9th before issuing a walk and getting the last out on a popup for his 12th save. Alex Call singled twice and scored a run while Jake Noll added an RBI single and his 10th HR to lead the Red Wings' offense.
Roster moves: OF Donovan Casey outrighted from Washington.
Reading 3 Harrisburg 1
• Cate (L, 0-3) 6IP, 6H, 3R, 3ER, 2BB, 5K, HR
• Teel 2IP, 1H, 0R, 1BB, 2K
• Dunn 2-4, 2B, BB
• Lindsly 2-4
Harrisburg got the tying run to the plate in the 9th but fell, 3-1 in the Thursday matinee. Tim Cate turned in his first quality start at AA with six innings of three-run ball on six hits (one HR) and two walks while striking out five. He was rewarded with his third AA loss. Edgar García added one goose egg and Carson Teel two to keep things close. Gilbert Lara's two-out single broke up the shutout but it would be the eighth and final hit as Darren Baker flew out to left to end it.
Brooklyn 7 Wilmington 6 (12 inn.)
• Cuevas 5IP, 7H, 5R, 3ER, 2BB, 4K, HR, HBP
• Alvarez 3IP, 3H, 0R, 0BB, 4K
• Sinclair (L, 1-1) 1IP, 0H, 1R, 0ER, 1BB, 0K
• Vega 2-5, R, 3B, 2RBI
• Antuna 1-4, R, 2BB, E
• Hassell 1-5, 2B
The two teams combined to put on 34 baserunners but only 13 crossed the plate as the Cyclones chipped the Blue Rocks, 7-6 in 12 innings. Michael Cuevas went the first five innings, allowing five runs on seven hits (one HR) and two walks while setting down four on strikes. The loss went to Jack Sinclair as he let in the free runner on a groundout while only issuing one walk. José Sánchez's two-out double in the 9th forced extras, where Jeremy De La Rosa plated Wilmington's final run on a sac fly in the 11th. Onix Vega led the eight-hit, eight-walk offense with a single, triple, and three RBI.
Fredericksburg 8 Augusta 2 – GM. 1
• Atencio (W, 2-1) 5IP, 3H, 0R, 0BB, 7K
• Greenhill 1⅓ IP, 0H, 0R, 0BB, 2K, 1-0 IR-S
• Frizzell 3-4, R, RBI
• McKenzie 2-4, 2R, 2B, HR, 3RBI
Powered by Jose Atencio on the mound and Jared McKenzie at the plate, the FredNats dewinged the GreenJackets, 3-1 in the opener. Atencio tossed five scoreless, allowing three hits and no walks and struck out seven for his second Low-A win. Holden Powell "worked on some stuff" for two runs in the 6th before Cody Greenhill got the last four outs in succession to close out the game. McKenzie hit his first pro HR with an Earl Weaver special to highlight a four-run third and added a double while Will Frizzell pushed his BA to .400 with three singles.
Augusta 8 Fredericksburg 7
• Seijas (L, 1-1) 4IP, 6H, 4R, 1ER, 2BB, 1K, WP
• Wood 2-4, R, 2-2B, 3RBI
• Lipscomb 2-4, RBI
• J. Young 1-3, 2R, BB, SB(41), OF assist at HP
In the nightcap, Fredericksburg rallied for four in the 7th and got the tying run to third before Augusta escaped with an 8-7 win to split the doubleheader. Karlo Seijas dug a 4-0 hole in four innings, giving up six hits and two walks while getting one (1) strikeout. Unfortunately, neither Bryan Peña nor Riggs Threadgill were much more effective, though three errors (two by Cortland Lawson) rendered five of the eight runs unearned. James Wood doubled twice and drove in three while Trey Lipscomb had two safeties and plated one. Jacob Young combined with Lawson on a double steal to get the scoring started and later threw a runner out at the plate.
Roster moves: RHP Holden Powell assigned from the FCL for MiLB rehab; RHP Cole Quintanilla activated from 7-Day I.L.
FCL Astros Orange 14 FCL Nationals 5
• B. Sanchez 2IP, 1H, 0R, 0BB, 4K
• Leon (L, 0-1) ⅔ IP, 2H, 5R, 2ER, 1BB, 3K, WP
• Ochoa Leyva 2-3, E(1)
• Torres 2-3, 2R, PB(2)
• Tejeda 2-4, R, HR, 2RBI, E(3)
The F-Nats lead is down to a 1/2 game over the F-Mets.
DSL Phillies White 2 DSL Nationals 1
• D. Perez 6IP, 3H, 1R, 1ER, 0BB, 4K
• W. Peña 4BF, 1H, 1R, 1ER, 2BB, 0K, HBP
• J. Garcia 1-3, R, 2B(10)
• D. Martinez 1-2, 2BB, RBI
• Gutierrez 1-2, SB(15)
No Homer Simpson RBI, as the winning run came in on a walk.