| | | | |
| --- | --- | --- | --- |
| Team | Yesterday | Today | Pitching Probables |
| Rochester | Lost, 13-7 | OFF DAY | N/A |
| Harrisburg | Lost, 7-3 | OFF DAY | N/A |
| Wilmington | Lost, 7-1 (5 inn.) | OFF DAY | N/A |
| Fredericksburg | Won, 4-0 | OFF DAY | N/A |
| FCL Nationals | OFF DAY | OFF DAY | |
| DSL Nationals | OFF DAY | OFF DAY | |
Omaha 13 Rochester 7
• Teel ⅓ IP, 4H, 5R, 5ER, 1BB, 1K, 2HR
• Je. Rodriguez 3IP, 3H, 1R, 1ER, 0BB, 4K
• Murphy (L, 2-2) ⅔ IP, 4H, 6R, 6ER, 2BB, 1K
• A. Lee ⅓ IP, 1H, 1R, 1ER, 0BB, 1K, 2-2 IR-S
• Meneses 3-5, 3R, 2HR, 4RBI
• Stevenson 2-5, 2R, 2-2B
• Palacios 2-4, RBI, CS
Rochester coughed up six in the 1st, battled back to tie at 6-6 after eight, then imploded for seven runs in the 9th en route to a 13-7 loss in the series finale. Starter Carson Teel retired just one of six batters faced, giving up five runs on a grand slam and a solo homer, and four hits total while walking one and striking out one. Patrick Murphy nearly matched him as he was torched for six runs on four hits and two walks while retiring two (2) of eight batters faced. It was the usual suspects on offense, as Joey Meneses singled once, homered twice, and drove in four; Andrew Stevenson doubled twice and scored twice, and Josh Palacios singled twice and drove in one to extend his hit streak to 11 games and his on-base streak to 24.
Roster moves: LHP Josh Rogers assigned for MLB rehab; RHP Cory Abbott recalled to Washington; RHP Hunter Harvey optioned from Washington.
Hartford 7 Harrisburg 3
• Troop 6IP, 5H, 1R, 1ER, 1BB, 6K
• Fuentes (L, 1-6) 4BF, 1H, 4R, 3ER, 2BB, 0K
• Dopico (BS, 1) 1IP, 2H, 2R, 2ER, 1BB, 1K, HR, 3-3 IR-S
• Dunn 2-3, 2SB(5)
• Hubbard 2-4, RBI
The Senators 'pen also melted down in the late innings, turning a 3-1 lead into the eventual 7-3 outcome for the fifth straight loss by Harrisburg. Alex Troop turned in a quality start of one run on five hits and a walk over six with six K's. The loss went to Steven Fuentes, who put on four batters with a hit, an error, and two walks. Danny Dopico came on with the bases loaded and emptied them along with two of his own for the blown save. Jack Dunn and Dondrei Hubbard each singled twice while Gilbert Lara hit a two-run HR to pace the Sens' offense.
Hickory 7 Wilmington 1 (5 inn.)
• Knowles (L, 3-1) 1⅔ IP, 5H, 5R, 5ER, 2BB, 1K, 2HR
• Merrill 1IP, 0H, 0R, 0BB, 2K
• Meregildo 1-2, R, HR(15), RBI
The rain ended this officially after five innings, but Hickory put it away after a five-run 2nd and then added two more in the bottom of the 4th. Lucas Knowles was knocked from the box with two out in the 2nd after back-to-back HRs. He walked two and struck out one while suffering his first loss. Omar Meregildo broke up the perfect game and ended the shutout with his 15th HR for the one (1) hit by the Blue Rocks.
Fredericksburg 4 Augusta 0
• Aldonis 5IP, 2H, 0R, 2BB, 6K
• Greenhill 1IP, 0H, 0R, 0BB, 1K
• Ge. Diaz 3-3, 2R, 2B
• Martina 2B, 2-3, SF, 3RBI
Five FredNats pitchers combined to shut out the GreenJackets, 4-0, on five hits. Pablo Adonis led the way with five scoreless innings in his Low-A debut, allowing two hits and two walks while setting down six on strikes. Four relievers followed with a goose egg apiece, combining for three hits, two walks, and five strikeouts. Junior Martin singled, doubled, and hit a sacrifice fly for three RBI while Geraldi Diaz singled twice and doubled once to lead the Fredericksburg offense.
FCL Nationals 22-7, 5GA, FCL East
It would be tempting to start making comparisons to the 2013 GCL Nationals, which went 49-9 in the regular season and won all three playoff games.
But it would also be wrong. While the 2022 F-Nats' pitching is pretty close to league average in terms of age, the batters are dramatically older — with five players 23 or older players among the top 12 in PAs. What remains to be seen is what the Nats will do with the influx of draftees. Last year, they didn't play for a month. Will they do the same this year? Will there be a slew of releases, like there used to be at the end of spring training? Cue the second single from the #1 album in 1982.
DSL Nationals 14-16, 5½ GB, DSL South
The D-Nats won just twice for the third straight week and are now two games under .500, 5½ games off the pace in the division. It's kind of the FCL in reverse, where the position players are close to the average age (18 vs. 17.8) but the pitchers are old for the level (19.4 vs. 18.6). If you guessed that means the pitching is better and the hitting is worse, then that, along with $2, gets you a cup of coffee.
# # #
2022 DRAFT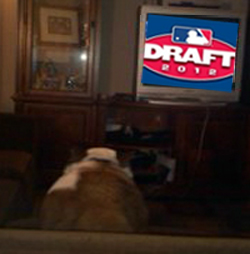 The first two rounds of the draft were last night. This afternoon, it'll be rounds 3-10, then tomorrow it's 11-20. As many of you know, the Draft is just not my thing. My time is limited and to me, it seems like a waste of it to speculate on who might get picked versus who did get picked.
Unfortunately, my usual excuse – too busy with day-to-day coverage – has been taken away this year, as MLB and Herr Manfred have all teams on break this week. But I don't expect to do that much more on the draft aside from giving you guys (and gals) a forum to discuss the picks and fret about the Nats' track record of developing talent outside of the first round.
To be honest—no, lie to us!—I'm more interested as to what will happen to the 20 guys displaced by the new picks. The deadline to sign is pretty tight (August 1), with only a subset (HS and JuCo) able to exercise any semblance of leverage, assuming any team is willing to bet on someone not signing between the 11th and 20th rounds.
Now, have at it in the comments… I'm just here to keep the lights on.