Last Night in Fredericksburg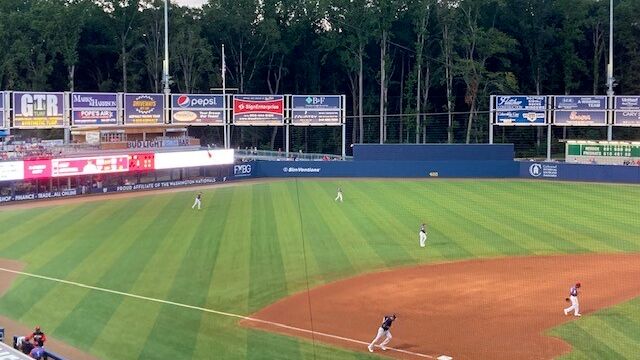 With the longest outing of his career, Jackson Rutledge pitched Fredericksburg to a 6-1 win over Salem – the third straight win for the FredNats and opened up a 6½ game lead in C.L. North Division.
Perhaps more importantly, it was just what the 23-y.o. needed after an eight-run beating at the wings of the Shorebirds, one of the league's lesser offenses, on with an eight-inning outing against one of the league's best lineups.
For those of you who lust for velocity, Rutledge touched 98 mph a couple of times and was within the zone, too. But it was his two-seam fastball and what appeared to be a cutter where he really made strides last night.
After a 10-pitch 1st, Rutledge struggled in the 2nd and 3rd innings. He needed 17 pitches to work around an error and was visibly shaken when 2-2 pitch wasn't called for a strike, issuing a walk instead.
In the 3rd, he ran into trouble when a one-out single and a stolen base put the tying run in scoring position. After getting his fourth whiff he was burned by Blaze Jordan for a two-out single to tie the game at 1-1.
The FredNats rallied for five in the bottom of the 4th, highlighted by Sammy Infante scampering home from second base on a wild pitch and Jacob Young's two-out RBI single. Despite having sat for a while, Rutledge responded with a 1-2-3 top of the 5th with three ground balls on just ten pitches.
Salem got to him for leadoff singles in the 6th and 8th frames but the Red Sox ran themselves out of any chance of a comeback with a caught stealing in the former and an ill-informed attempt to stretch a single into a double in the latter, which actually seemed to energize Rutledge.
He would finish with one run let in on four hits, two walks, and seven strikeouts. He threw 91 pitches, 61 for strikes as he won his fourth game.
Young, Infante, and Branden Boisserie each had two hits to power the FredNats' nine-hit, four-walk offense.
The two teams will finish the series this afternoon with a rematch of the series opener's pitchers: Andry Lara and Winkelman Gonzalez.