Last Night in Fredericksburg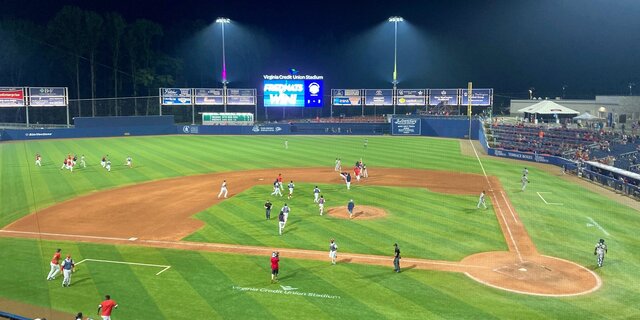 Lynchburg learned a hard lesson on Saturday: If you don't take advantage of your opportunities early, you could pay for it late.
The Hillcats were able to knock the FredNats starter from the box early, as they sent Brendan Collins packing after two hits and three walks in the space of a dozen batters. But they scored just one run against him and the inability to take advantage of their opportunities would be their downfall.
Bryan Peña got the last out of the 2nd to leave the bases loaded and then repeated the feat in the 3rd despite some dumbassery as the 22-y.o. fielded a dribbler to his right and decided he could beat the runner to 3rd instead of taking the easy out at 1st.
He could not, but did induce a foul pop and got a glove on a grounder up the middle that SS Brady House was able to snag and turn into an out.
The Hillcats left on a total of 12 baserunners for the game and went 0-for-11 with RISP. However, some of the credit must go to the Fredericksburg bullpen, which combined for seven and a 1/3rd scoreless innings and struck out 10 without issuing a walk.
Offensively, Fredericksburg was no-hit for five innings and shutout for six before Brady House led off the 7th with a single to the opposite field. The 19-y.o. took third on a perfectly executed hit-and-run and scored on a sac fly off the bat of Sammy Infante.
House would be instrumental in the winning run, too, as he singled again to lead off the 9th, took second on a deep flyout to left by Leandro Emiliani and went to third ahead of a grounder to short. Geraldi Diaz delivered the gamewinner with a single up the middle for the walk-off win – the third this season for Fredericksburg.
The win pulled the FredNats into a tie for first place with the Mudcats at 30-26, with the Hillcats one game back at 29-27, the Red Sox two back at 28-28, and the Wood Ducks three games back at 27-29 with ~10 games to go.
Lynchburg and Fredericksburg are slated to close out the series with a matchup this afternoon. Bryan Caceres (3-3, 4.76) is slated to pitch for the FredNats, opposed by Trenton Denholm (2-2, 4.87).