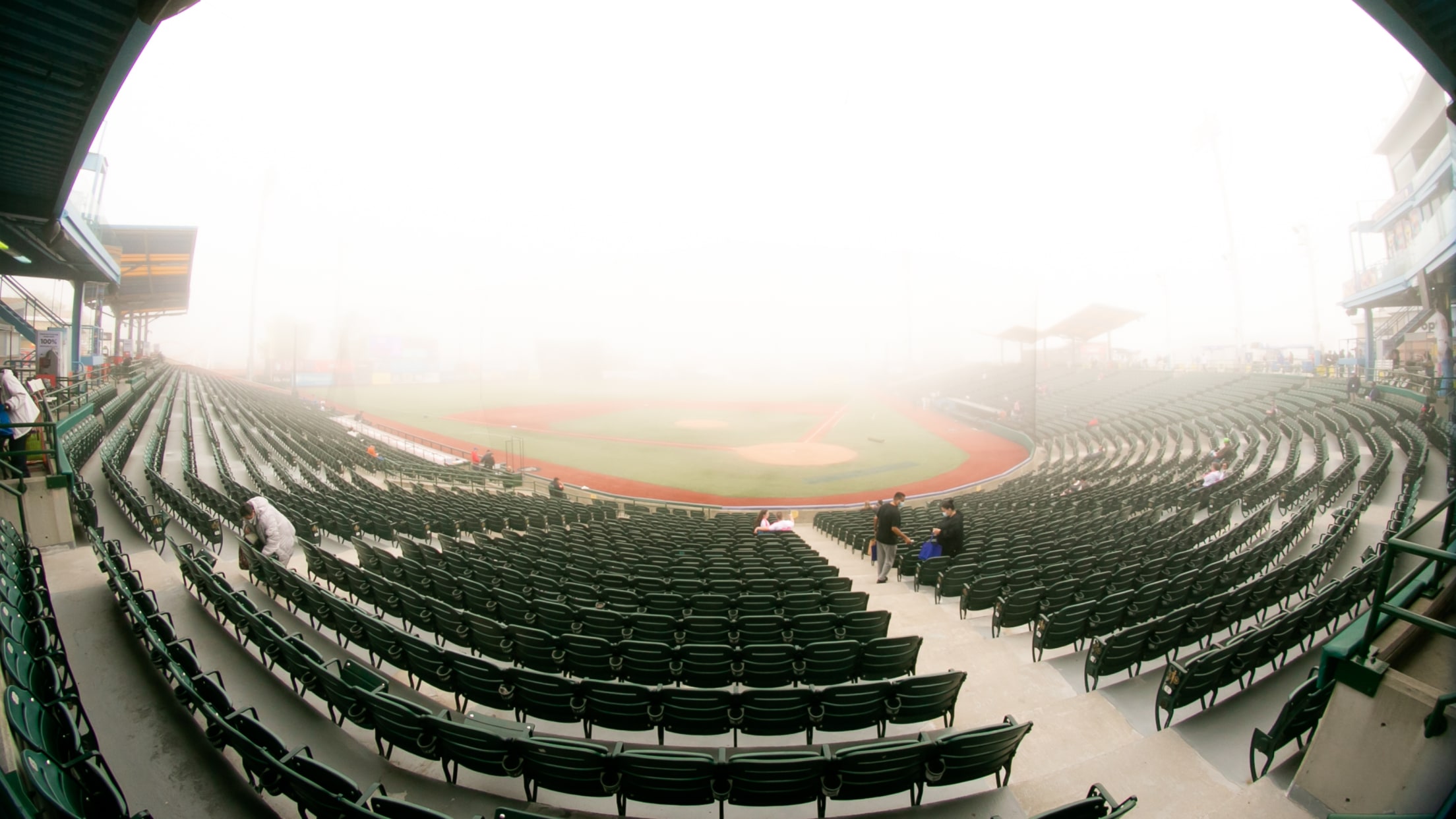 Photo via Brooklyn Cyclones/MiLB
Team
Yesterday
Today
Pitching Probables
Rochester
Won, 6-2
@ Worcester, 6:45 p.m.
Je. Rodriguez (1-1, 5.57) vs. D. Hernandez (0-0, 7.02)
Harrisburg
Won, 8-2
vs. Richmond, 7 p.m.
Fuentes (1-1, 3.24) vs. Dahlberg (2-1, 2.97)
Wilmington
Postponed
@ Brooklyn, 7 p.m.
Irvin (0-0, 0.53) vs. Rojas (3-1, 1.82)
Fredericksburg
Lost, 6-5
(11 inn.)
vs. Kannapolis, 7:05 p.m.
Theophile (3-0, 1.04) vs. Ja. Kelley (0-1, 5.56)
Rochester 6 Worcester 2
• Verrett (W, 1-2) 5IP, 3H, 2R, 2ER, BB, 6K, HR, 2WP
• F. Perez (H, 3) 1IP, 0H, 0R, 0BB, 2K
• Barrera 2-4, 2R, HR, 2RBI
• Freeman 2-4, R, 2B(5), SB
• Fox 2-4, R, 2B
Like a Connecticut-style lobster sandwich, Rochester is hot and on a roll after a 6-2 win over Worcester – the sixth straight for the Red Wings. Logan Verrett finished five innings for the first time in four starts and thus qualified for the win, his first. He allowed both Red Sox runs on a 1st-inning HR and three hits total while issuing a walk and fanning six. The Rochester 'pen added four more scoreless innings to lower its ERA to 0.21 in the month of May (H/T Red Wings PR). Tres Barrera singled and homered while Cole Freeman and Lucius Fox both went 2-for-4 with a double and a run scored to pace the Rochester offense.
Roster moves: LHP Jace Fry activated from 7-Day I.L.; OF Nick Banks placed on 7-Day I.L., retroactive to May 11.
Harrisburg 8 Richmond 2
• Henry 4IP, 1H, 1R, 1ER, 0BB, 4K, HR, 54-34 PIT-K
• Guerrero (W, 2-2) 2IP, 2H, 1R, 1ER, 0BB, 3K, HR
• Alu 2-3, R, BB, 2RBI
• W. Garcia 2-4, R, HR, RBI
• Lindsly 2-4, R, 2B, 2RBI
The Senators scored in four straight "ups" to turn a 1-1 tie into the eventual 8-2 outcome to stop a four-game slide. Cole Henry went the first four at an acceptable clip of 54 pitches, allowing one hit—a HR)—no walks, and setting down four on strikes. The "W" went to Alberto Guerrero, who gave up the other Richmond run on another HR (yep, same batter) over two innings with no walks and three whiffs. Jake Alu reached base three times with a walks and two singles while driving two, as did Brady Lindsly on a single and a double to lead the Harrisburg's ten-hit, two-walk offense.
Wilmington vs. Brooklyn – PPD
What the fog?! Above is why last night's game between Wilmington and Brooklyn was postponed. They'll shoot to make it up with a 4 p.m. doubleheader tomorrow afternoon.
Kannapolis 6 Fredericksburg 5 (11 inn.)
• Rutledge 1IP, 1H, 0R, 1BB, 0K
• Greenhill 3IP, 1H, 0R, 0BB, 3K
• Threadgill (L, 2-1) 2IP, 3H, 2R, 1ER, BB, 3K
• V. Peña 2-5, R, 2-2B, BB, RBI
• Ge. Diaz 2-5, R, 2B, RBI
• J. Young 1-4, 2R, 2BB, 2B, SB
You can unbundle your undergarments – a 45-minute rain delay limited Jackson Rutledge to a single inning in a 6-5 FredNats loss in 11 innings to the Cannon Ballers. Rutledge allowed a hit and a walk in that inning without a whiff. Kannapolis broke out for four in the top of the 4th while Fredericksburg answered with three in its half of the 4th and tied it on a Viandel Peña RBI double in the 5th. The Cannon Ballers won it in the 11th with a pair of runs off losing pitcher Riggs Threadgill. Jeremy De La Rosa doubled in free runner Jacob Young with one out in the 11th but watched Leandro Emiliani strikeout and trotted home on Branden Boisserie's flyout to end the game.