Last Night in Fredericksburg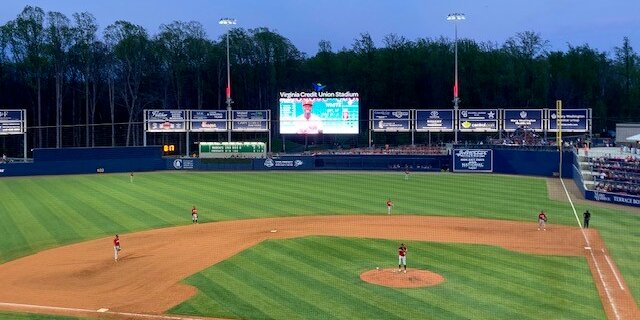 The FredNats batted around in the 5th, snapping a 2-2 tie as they secured a series win against the MudCats with an 8-3 victory.
Early on, though, it did not look good as starter Dustin Saenz labored through a 21-pitch inning, giving up two runs on a walk and two hard-hit doubles. But then the Texas southpaw settled down and in and made quick work* of the Carolina lineup with a pair of 1-2-3 innings in the 2nd and 3rd.
* Perhaps you've heard of the pitch clock and how it's strictly enforced. Believe it. In the press box, there was a guy with the one job of running that clock. Twice during the game, it was enforced, resulting in a walk and a strikeout. And yes, it does speed things up noticeably. It took 40 minutes to play the first three innings
An Andry Arias double and an error cut the lead in half in the 2nd while Sammy Infante's 3rd homer – a moonshot to dead center – tied the game at 2-2 after four.
Fredericksburg batted around in the 5th, scoring six runs on a single, four doubles, and two-run HR by Leandro Emiliani (his 1st of '22). Emiliani, who doubled in the 3rd, would double again in the 6th for the seventh and final two-bagger of the night.
Meanwhile, Saenz turned in a quality start with five scoreless innings after the first and earned the win. He walked three and struck out six while allowing just the two runs on six hits. Ahead by six, manager Jake Lowery gave the 'pen some work as Tyler Schoff worked around a single in 7th and Cody Greenhill did thesame in the 8th while striking out the side.
In the 9th, Jack Sinclair hit a batter and gave up a double that scored the final Carolina run.
Brady House singled in his second plate appearance to push his hit streak to eight games and got an RBI single in the 5th for his 11th RBI. He also reached base with a walk in the first.
The two teams finish the series this afternoon with a rematch between Andry Lara (0-0, 0.00) and Alexander Cornielle (0-1, 2.45).