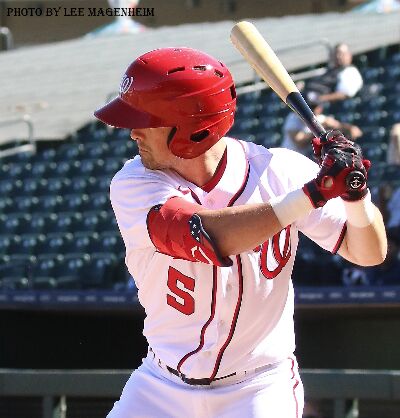 The Sagauros' seven-game winnings streak was stopped on Monday as the Scorpions handed them just their fourth loss, 8-3.
Jackson Cluff (pictured) led off and played shortstop. He went 3-for-5 to improve his fall average to .378, and took part in two double plays.
Drew Millas caught the game and was the no. 6 batter. Alas, he was 0-for-4 with a whiff and committed his second error. He threw out one of four basestealers.
Donovan Casey batted 9th and was the "8" on the scorecard. He had two singles and an RBI and snagged one flyball on defense.
Todd Peterson came on with two out and the bases loaded in the 7th and left 'em that way to get the third out.
In the 8th, Nats' 2019 7th Rd. pick put on two baserunners himself with a walk and a single and had a third reach base courtesy of an error, which allowed an unearned run to score on a one-out, bases-loaded HBP. Peterson bore down and got a key strikeout for the second out and rolled a grounder to Cluff to end the inning.
Surprise (12-4) hits the road again to visit Peoria (7-8) this afternoon.