AFL/Offseason Update: Nov. 12, 2021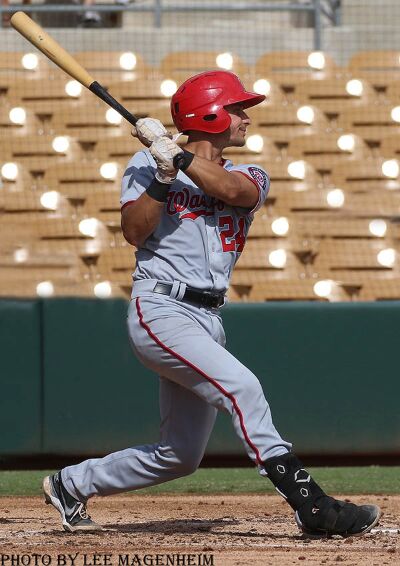 A seven-run 7th was the difference as the Sagauros put down the Desert Dogs, 11-7 and reclaimed first place in the AFL West.
Once again, two position players were in the lineup while a reliever made an appearance:
Jackson Cluff, candidate for the Final 2 vote, led off and played shortstop. He went 1-for-5 with a walk, a double, and two runs scored and took part in a 6-4-3 DP
Drew Millas (pictured) was the Surprise DH and got off the interstate (now batting .209) with a 2-for-4 afternoon, including a solo homer. He also walked, which improved his OBP to .292
Todd Peterson allowed an unearned run in the 8th while giving up two hits. He nevertheless got through the inning on just 12 pitches, eight for strikes.
The Sagauros (15-9) return home to host the AFL East-leading Solar Sox (13-10) to close out the penultimate week of the 2021 AFL season.
# # #
As noted in the comments, WaPo beat writer Jesse Dougherty continues to (un)cover the Nats' front-office makeover, which has seen another longtime yes-man executive (Mark Scialabba) reassigned from the minors to the majors. While GM Mike Rizzo claims the new role is a promotion, Dougherty once again calls bullshit:
The Nationals have since gone 26-34 and 65-97, good for back-to-back last-place finishes. And while only a fraction of that can be pinned to trouble developing major league contributors, a bottom-ranked system helped nudge them to dealing Max Scherzer and Trea Turner, among six others, this summer. Flaws in player development philosophy and a lack of resources — from staffing to technology — were exposed and given a hard look within the organization. Fixing that became a top priority.
As the WaPo headline notes, the Nats are seeking a new farm director. Rizzo is spouting the usual platitudes about fresh eyes/perspective, but that will only be true if the new person has no ties to Rizzo, the Nats, or the Diamondbacks.