Offseason Update: Oct. 9, 2021
It's post-mortem season on the beat writer side and Cade Cavalli cheerleading over at Baseball America.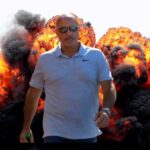 STATE OF THE FARM
Mark Zuckerman's article (linked above; warning – the reasons for the "MASN Commenter" trope are in abundance) gets to the perennial chicken-and-egg question about the failure to draft or the failure to develop. Obviously, it's both, with a hard lean toward the latter. The evidence? Every list of relievers drafted by Washington but pitching elsewhere.
What continues to confound me is how Washington can identify talent on other teams' rosters, trade for them, and turn them into either useful players or subsequent trade chips. It would seem to me that this could be done sooner, i.e. before that talent is drafted elsewhere.
The early returns on the 2021 draft are promising, but as yesterday's GBI showed, you can take a look at the guys who were all that and bag of chips from past GBIs at the GCL/Auburn levels and you get a lot of this. Find me one that wasn't an IFA or a high draft pick [insert Seth Romero joke here].
Like I wrote two years ago, things are better than they were, but I'm having a hard time believing the cycle won't repeat itself if they don't do better with the non-IFAs and lower-level picks.
KEEP YOUR EYE ON THE CBA NEGOTIATIONS
The upcoming CBA could potentially change things that affect the minors. For example, MLB could decide that it can no longer tolerate tanking (2021 was the second 162-game season with four 100-loss teams, the first was in 2019) and implement an NBA-style lottery. Or it could decide that maybe an NFL-style schedule might help, though it would probably have to be limited to interleague play and by geography (which would also preclude any pipe dreams of English-soccer-style relegation).
Probably the biggest sea change would be an international draft, however, five years ago it was considered a stumbling block when things were relatively amicable between MLB and the MLBPA. Things are much more contentious now, and I'd like to think that some of the veterans are starting to notice that selling out the kids hasn't worked out in the long term.
2021 DSL NATIONALS
One of the first things we noticed when they started up play was how few guys were left from 2019 – about a half-dozen. The Nats had, after all, been skewing younger after years of signing (what they hoped would be) "late bloomers."
2021 was no different on that front: The hitters averaged 17.8 years old (Lg. Avg. 17.9) and the pitchers averaged 18.8 years old (Lg. Avg. 18.7). Two of the six repeats were batters and the other four were pitchers. This pattern appears to be the m.o. across the DSL as some teams' avg. age for pitchers was over 19.
What was different though is that this group of youngsters were winners, finishing 3rd, percentage points behind 2nd, and three games out of 1st. Even better, they had the best pitching in the entire DSL — 3.22 R/G, 2.93 ERA (vs. 4.78 and 4.28 Lg. Avg.'s).
Obviously, the hitting wasn't as good (3.93 R/G) but, as the slight gap between the ERA and R's suggests, the defense was good with the 8th-best FPct. (.962 vs. .953 LA), the 10th-least errors, the least passed balls, and the second-least wild pitches.
The thing to watch for next year will be how the Nats (and everyone else, really) handle things. With one less short-season team (at least for the Nats), some of the DSL guys may repeat simply because there isn't enough room in the FCL, presuming the Nats don't or won't field a second FCL Team (three organizations fielded two FCL teams, four fielded two AZL teams).
Without further ado, the Obligatory Top 5's:
TOP 5 BATS
TOP 5 ARMS
1. Erick Tejeda, 1B
.293 GPA, 3HR, 24RBI
1. Gabriel Agostini, LHRP
1.11/2.25/0.90, 6BB in 32⅓ IP
2. Eliesel Santana, LF/RF
.254 GPA, 9-2B, 17BB in 41G
2. Jose Atencio, RHSP
1.58/2.13/0.86, 0.7 BB/9IP
3. Juan Garcia, 3B
.243 GPA, 10SB, 28BB in 54G
3. Jose Cedeno, RHSP
1.24/2.70/0.74, 11.3 K/9IP
4. Jose Colmenares, C
.231 GPA, 46% CS%
4. Jefrem Leon, RHRP
1.46/3.12/0.93, 4.7 H/9IP
5. Winder Diaz, IF
.230 GPA, 28BB, 8E
5. Raynel Moron, RHSP
4.30/2.84/1.39, 0HR in 44IP
Honorable mention to 17-y.o. 1B Jhoan Contreras, who split time between 1B and DH with Tejeda, and 18-y.o. Eliel Marcano, who issued just two walks in 24IP.Folks interested in seeing the full team's statistics can find them here.