AFL/Offseason Update: Oct. 30, 2021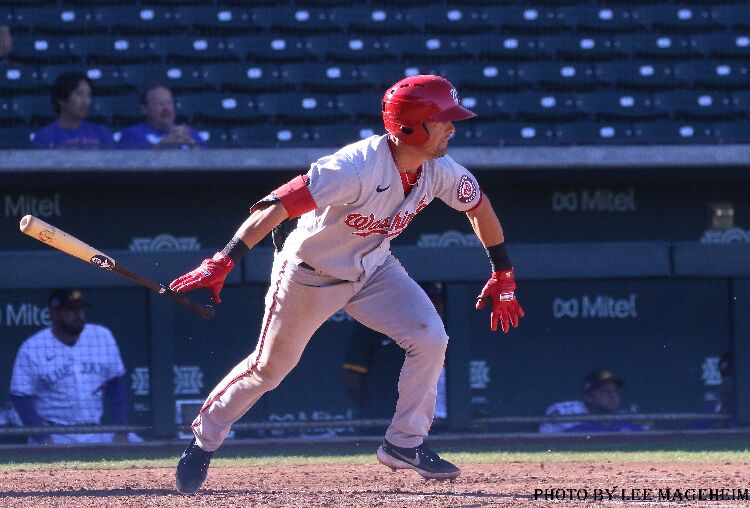 The Solar Sox built a 4-0 lead after three but were eclipsed by three-run rally in the 4th and six more in the 5th as the Sagauros survived another bullpen meltdown in a 10-9 win.
Once again, the Washington contingent was sparse: just one hitter and one pitcher.
Jackson Cluff (above) batted 9th and manned shortstop, going 2-for-5 with two RBI on offense, and was busy on defense with five assists and four putouts.
Todd Peterson "worked on some stuff" (right or below, depending on your device) in the 9th, giving up three runs on three hits (one HR) and no walks while striking out two.
Surprise remains on the road, playing this afternoon in Scottsdale. Cole Henry is expected to start.
# # #
THE 2021 WILMINGTON BLUE ROCKS
Wilmington was the first of two new affiliates in the organization, replacing Potomac at the High-A level and joining the remnants of the New York-Penn League and the South Atlantic League.
Like the FredNats, the Blue Rocks got off to a slow start with five straight losses. Unlike Fredericksburg, Wilmington then reeled off five straight wins. For about seven weeks, the Nats' High-A team was the Obi-Wan for a winning team until about mid-June (June 17 to precise) when the losses started piling up.
It would be convenient to put that on Cade Cavalli moving up, but the inconvenient truth is that Wilmington only won four of his seven starts. Like the big club, the Blue Rocks' bullpen was to blame (18 saves, 17 blown saves) along with a subpar offense (4.64 R/G vs. 5.10 Lg. Avg.), slightly below-average pitching overall (5.26 R/G vs. 5.10), and very below-average defense (11th in FPct. 10th in errors in the 12-team league).
In terms of age, the team was pretty close to the league averages – 23.0 for bats (22.9) and 23.1 (23.3) – which is an encouraging trend because for years the High-A team was typically a collection of a handful of age-appropriate-to-the-level and a whole lot of 24- and 25-year-olds.
Without further ado, the Top 5's – you can unbundle your undergarments: Cavalli isn't rated because he did the bulk of his pitching at AA. Ditto for Jake Alu, except for the pitching part.
TOP 5 BATS
TOP 5 ARMS
1. Justin Connell, LF
.260 GPA, 21SB,
1. Cole Henry, RHSP
1.88/2.86/0.79, 13.2 K/9IP, 2.3 BB/9
2. Omar Meregildo, 1B/3B
.259 GPA, 16HR, 48RBI
2. Evan Lee, LHSP
4.32/3.60/1.31, 12.2K/9IP, 3.7 BB/9
3. Yasel Antuna, SS (sort of)
.234 GPA, 12HR, 65RBI, 46BB
3. Joan Adon, RHSP
4.97/4.06/1.25, 9.4 K/9IP, 3.3 BB/9
4. Gage Canning, OF
.260 GPA, 63K in 62G
4. Alfonso Hernández, RHSP
3.97/4.97/1.27, 10.9 K/9IP, 2.7 BB/9
5. Armond Upshaw, OF
.262 GPA, 24SB
5. Alex Troop, LHRP
3.84/3.78/1.27, 7-1, 1.59 ERA in relief
Sometimes I wish I had the luxury of double-dipping a la Baseball America; it would be easier to re-rank Mitchell Parker and Ricardo Méndez than to agonize over the last couple of guys on these Top 5's. I'll be honest: Adon and Antuna at No. 3 is a hedge against the PR machinery and an admission that yeah, I don't see these guys as much as I used to.
An honorable mention goes to Ike Schlabach, who was released by the Pirates just before Opening Day, signed in late June, worked out in the FCL for two weeks (three appearances), initially assigned to Harrisburg to appear in one game, and then reassigned to Wilmington. In 13 games (25⅔ IP), he posted a line of 3.51/3.26/1.36 with six walks and 30 whiffs.
Missing the cut for the batters is Israel Pineda, who hit 14 HRs but only drew 18 walks, which is hard to excuse even if you're only 21; this was, after all, his fourth pro season and second in full-season ball.
If you want to see the Blue Rocks stats yourself, go here. To look at the Wilmington pitching data, go here.