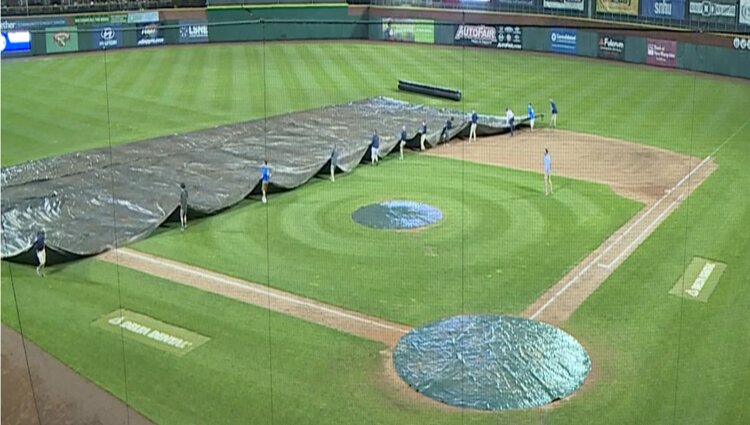 | | | | |
| --- | --- | --- | --- |
| Team | Yesterday | Today | Pitching Probables |
| Rochester | Lost, 20-3 | vs. Buffalo, 5:05 p.m. | Cavalli (0-3, 6.00) vs. Allgeyer (4-4, 5.21) |
| Harrisburg | Canceled | @ New Hampshire, 6:35 p.m. | TBD vs. TBD |
| Wilmington | Canceled | @ Bowling Green, 7:35 p.m. | A. Hernández (4-2, 4.14) vs. Mercado (2-5, 5.37) |
| Fredericksburg | Lost, 7-3 | vs. Lynchburg, 7:05 p.m. | Merrill (2-2, 5.14) vs. Jones (3-9, 4.31) |
| FCL Nationals | Lost, 10-5 | vs. FCL Mets, 12 p.m. | |
| DSL Nationals | OFF DAY | @ | |
Buffalo 20 Rochester 3
• Fuentes (L, 0-3) 3IP, 12H, 10R, 9ER, 2BB, 3K, HR(not a GS)
• Rainey 1IP, 0H, 0R, 0BB, 3K
• Robles 3-5, R, 2-2B, SB
• Castillo 2-4, 2RBI; 1⅔ IP, 3H, 1R, 1ER, BB, 0K, HR
The Red Wings shut out the Bisons for two innings last night, but in the other seven frames it was good old-fashioned ass-kicking to the tune of 20-3. Steven Fuentes was stampeded for ten runs on 12 hits and two walks over three-plus innings. He struck out three. After Tanner Rainey struck out the side in the 4th, Buffalo had BP against Sterling Sharp (6H, 4R), Nick Wells (2H, 4R), and Ali Castillo (3H, 1R). Some guy named Victor Robles singled once and doubled twice while stealing a base.
Harrisburg vs. New Hampshire – CNCLD (RAIN)
Rain delayed the start of the game and they were able to get about three innings in before the tarp was pulled (see above) and the game did not resume. It will apparently not be resumed or made up.
Wilmington vs. Bowling Green – CNCLD
Rain cancelled Game Two between the Blue Rocks and Hot Rods. They'll resume play tonight, weather/field conditions permitting.
Lynchburg 7 Fredericksburg 3
• A. Lara 4IP, 3H, 2R, ER, 3BB, 2K, HR
• Collins (L, 0-2) 1⅓ IP, 4H, 4R, 4ER, BB, 3K
• Baker 3-5
• Boisserie 2-4, 2R, 2B
• J. De La Rosa 2-4, 2B, E(8)
Lynchburg broke out for four in the 8th to break a 3-3 tie and took Game Two, 7-3. Andry Lara made it through four innings, allowing two runs on three hits (one HR) and three walks. He struck out two. The loss went to Brendan Collins, as the Hillcats went all Earl Webb on him with four doubles in the space of five batters. Darren Baker led the F-Nats hit column with three singles while Jeremy De La Rosa and Brenden Boisserie both went 2-for-4 with a double to lead the Fredericksburg offense.
FCL Marlins 10 FCL NAtionals 5
• M. Gomez (L, 1-3) 3⅓ IP, 6H, 5R, 3ER, 2BB, 4K
• Ferrer 3IP, 3H, R, ER, 0BB, 4K
• White 2-4, 2R, HR, RBI
• Sullivan 2-3, 2B, BB, 2RBI
• Arias 1-4, R, HR(5), RBI
An early 1-0 FCL Nats lead went bye-bye the FCL Marlins scored in five straight innings to take this 10-5. Miguel Gomez was lit up for five runs on six hits and two walks over three and a 1/3rd inning to take his third loss. T.J. White smacked his 4th HR while Andry Arias went deep for the 5th time, though both HRs were solo shots. Jake Sullivan doubled in two for the FCL Nats' lone hit in six RISP chances.
DSL Nationals – OFF DAY
The 4th-place D-Nats close out the week with two today and tomorrow against the 5th-place D-Angels, then a Saturday double-dip against the D-Astros.