Last Night in Fredericksburg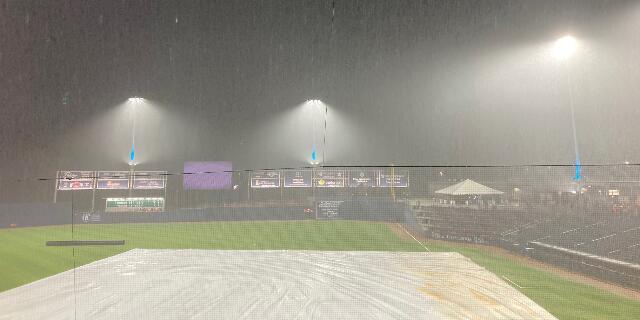 No matter how long the win streak, sometimes you need just a little luck.
For the Fredericksburg Nationals, that came in the form of torrential rains in the top of the 8th – just as the Carolina Mudcats were starting to rally with two on and nobody out – as the game was called 55 minutes later to give them a 5-4 win and extend their win streak to a season-best four games.
Luck factored in early for the F-Nats, as they took advantage of a wild pitch to score the opening salvo in the 1st and an error in the 2nd to score three runs (two unearned) and take a 4-0 lead. Two walks certainly helped, too.
A long solo HR by midseason pickup Juan Paulino pushed it to 5-1 after three full.
But then the Mudcats started chipping away, getting one back in the 4th with back-to-back-to-back singles with two outs. Two more in the 5th—both unearned—as they knocked out Karlo Seijas with two outs. The Opening Day starter was peppered with eight hits over four and 2/3rds, most of them of the seeing-eye or dying-quail variety.
It became a battle of the bullpens, with Lucas Knowles bringing the heat in his return from the FCL and striking out four over two and a 1/3rd and Carolina's Nate Peden fanning five over three scoreless innings.
In the 8th, Andrew Alvarez followed Knowles and had the control of a drunken sailor, hitting two batters and getting just three of nine pitches across the plate. He was saved by the rain, which came in like a bulldog going after a dropped hamburger (don't ask). The tarps were rolled out in less than five minutes, but within 15 minutes, pools of water could be spotted on the edges and it was pretty clear that this game would be called.
Presuming the field dries out by tonight, the two teams will rematch in the series finale tonight with Fredericksburg going for five in a row. Michael Cuevas (1-6, 3.50) will take the hill, opposed by Zach Mort (2-0, 1.42) for Carolina.